The Third as Object and Subject
Educational Relationship, Third Function and Mediation
Volume 7 - Education SET Coordinated by Angela Barthes, Anne-Laure Le Guern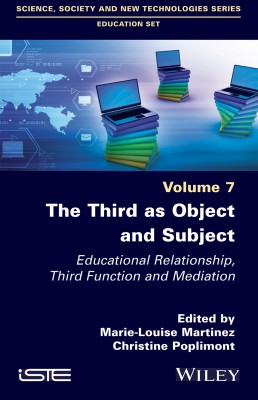 Description
The role of the third party is often played by a material or psychic object or by a living being, then called the "subject". The third party enables relationships, especially in education.

According to Michel Vial, "the third object is a medium that sends the subject back to themself and allows them to work on their change, to regulate themself, to evaluate themself". If the object can exercise the role of the third party in interpersonal or intrapersonal relations, it is always the subject and the subject's relationship with another human being, or with the group, that benefits or suffers from it. Paradoxically, it may well be that the condition of possibility enabling the process of personification is the third party, the "non-person", as Benveniste claimed.

This book is intended for relationship professionals, educators, parents, teachers, facilitators and trainers, as well as caregivers and therapists, in order to help them understand the issue of the third party.
Contents
Part 1. The Object as a Third Party in Education and in Training
1. The Object as a Third Party in Social Mediation Relationships – Study of a School Facility: The Table in Role-play, Jean-Louis Boutte and Sophie Pinazo.
2. The Text's Others, the Otherness Text: The Text as a Third Object in Training, Muriel Briançon.
3. The "Third Object" Tool in a Professional Counseling Situation, Valérie Guillemot and Christine Poplimont.
4. The Portfolio as a Third Object in Didactic and Self-study Systems, Caroline Ladage.
5. Self-assessment in Road Safety Training Programs: The Role of Attributional Style Questionnaires as Third Objects, Christine Poplimont and Guylaine Molina.

Part 2. The Subject as a Third Party in Education and in Training
6. Towards the Deployment of a Pedagogical Action in Dialogue as a Mediating Instance in the Teaching–Learning Environment, Pierre Usclat.
7. Reciprocity and Reversibility of the Personal Third Party: Learning Through a Game of Postures, Emmanuel Nal.
8. Reversing the Scapegoat Process by Integrating the Previously Excluded Third Party in Education, Marie-Louise Martinez and Tommy Terraz.
9. The Third Landscape as an Educational Third Place and a Third Time, Between the City and Nature, Gilles Delesque.
10. General Information on the Need for the Symbolic Third Party in the Masonic Institution's Educational Process via the Myth, the Rite and Otherness, Stéphane Blanchard†.
About the authors
Marie-Louise Martinez is Professor Emeritus at the University of Rouen, France. Her research focuses on issues of violence and the emergence of the student as a subject, a person, a citizen and an eco-citizen.

Christine Poplimont is Professor at Aix Marseille University, France, and a specialist in training engineering. Her work focuses on changes in behavior, social representations, knowledge acquisition and the development of skills.
Downloads

Table of Contents
PDF File 108 Kb