Land Surface Remote Sensing in Agriculture and Forest
Remote Sensing Observations of Continental Surfaces SET coordinated by André Mariotti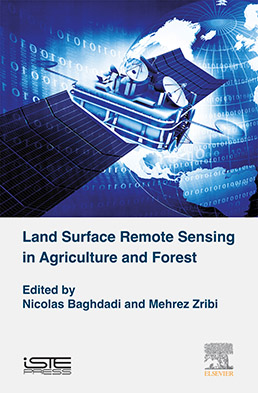 Description
The environmental and economic importance of monitoring forests and agricultural resources has allowed remote sensing to be increasingly in the development of products and services responding to user needs.

This volume presents the main applications in remote sensing for agriculture and forestry, including the primary soil properties, the estimation of the vegetation's biophysical variables, methods for mapping land cover, the contribution of remote sensing for crop and water monitoring, and the estimation of the forest cover properties (cover dynamic, height, biomass).

This book, part of a set of six volumes, has been produced by scientists who are internationally renowned in their fields. It is addressed to students (engineers, Masters, PhD), engineers and scientists, specialists in remote sensing applied to agriculture and forestry.

Through this pedagogical work, the authors contribute to breaking down the barriers that hinder the use of radar imaging techniques.

Contents
1. Mapping of Primary Soil Properties Using Optical Visible and Near Infrared (Vis-NIR) Remote Sensing, Cécile Gomez and Phillipe Lagacherie.
2. Estimation of Biophysical Variables from Satellite Observations, Fred Baret.
3. Land Cover Mapping from Optical Images, Jordi Inglada.
4. Contribution of Remote Sensing for Crop and Water Monitoring, Dominique Courault, Valérie Demarez, Martine Guérif, Michel Le Page, Vincent Simonneaux, Sylvain Ferrant and Amanda Veloso.
5. Contribution of Remote Sensing to Crop Monitoring in Tropical Zones, Pierre Todoroff and Jaco Kemp.
6. Monitoring of Agricultural Landscapes Using Remote Sensing Data, Samuel Corgne, Laurence Hubert-Moy and Julie Betbeder.
7. Applications of Multispectral Optical Satellite Imaging in Forestry, Dominique Guyon and Nathalie Bréda.
8. Characterization of Forests with LiDAR Technology, Adrien Michez, Sébastien Bauwens, Stéphanie Bonnet and Philippe Lejeune.
9. Forest Biomass from Radar Remote Sensing, Ludovic Villard, Thuy Le Toan, Dinh Ho Tong Minh, Stéphane Mermoz and Alexandre Bouvet.

About the authors
Nicolas Baghdadi is Research Director at IRSTEA in France. He is currently the scientific director of the French Land Data Centre (Theia).

Mehrez Zribi is Research Director at CNRS in France. He is currently active at CESBIO in Toulouse where he is also responsible for the team of observation systems.

Downloads

Table of Contents
PDF File 1143 Kb