The Uncertain Digital Revolution
Volume 1 – Computing and Connected Society SET Coordinated by Dominique Carré and Geneviève Vidal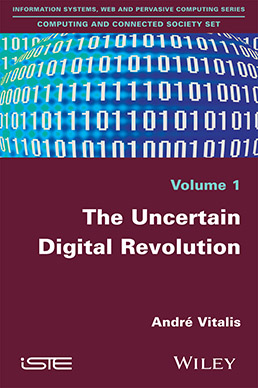 Description
Digital information and communication technologies can be seen as a threat to privacy, a step forward for freedom of expression and communication, a tool in the fight against terrorism or the source of a new economic wealth.

Computerization has unexpectedly progressed beyond our imagination, from a tool of management and control into one of widespread communication and expression. This book revisits the major questions that have emerged with the progress of computerization over nearly half a century, by describing the context in which these issues were formulated. By taking a social and digital approach, the author explores controversial issues surrounding the development of this "digital revolution", including freedom and privacy of the individual, social control, surveillance, public security and the economic exploitation of personal data.

From students, teachers and researchers engaged in data analysis, to institutional decision-makers and actors in policy or business, all members of today's digital society will take from this book a better understanding of the essential issues of the current "digital revolution".

Contents
1. Technological Surveillance Subjected to Restrictions.
2. Security Over Liberty.
3. A Network Promoting Participation and Exchange.
4. Privatization and Economic Exploitation of Personal Data.
5. Digitalization and Revolution.


About the authors
André Vitalis is Emeritus Professor at the University of Bordeaux-Montaigne. He is the author of several previous works on this subject.


Downloads

Table of Contents
PDF File 98 Kb