Energy Autonomy of Real-Time Systems
Energy Management in Embedded Systems SET Coordinated by Maryline Chetto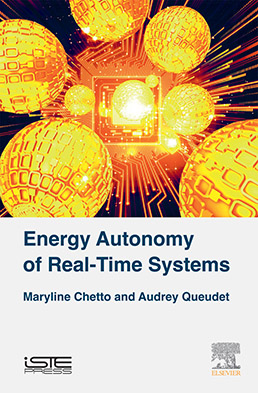 Description
This book deals with a new problem, that of energy autonomy of a real-time system that feeds from a source of environmental energy. This involves investigating various issues related to the harvest of energy, its temporary storage and use in order to ensure sustainable autonomy while respecting the rules of performance in real time.

After two introductory chapters which deal with real-time computing and real-time scheduling, the authors propose a chapter on state-of-the-art technology recovery and storage of energy. The final chapter discusses a real-time system which never uses more energy than can be recovered and presents techniques of optimal scheduling tailored to real-time autonomous energy systems on a single-processor platform.

Contents
1. Real-time Computing.
2. Principles of Real-time Scheduling.
3. Harnessing Ambient Energy for Embedded Systems.
4. Energy Self-sufficiency and Real-time Scheduling.

About the authors
Maryline Chetto is Professor at the University of Nantes in France, where she teaches in the QLIO department of the Institute of Technology.

Audrey Queudet is Associate Professor at the University of Nantes in France.

Downloads

Table of Contents
PDF File 90 Kb