Enterprise Interoperability
in the Digitized and Networked Factory of the Future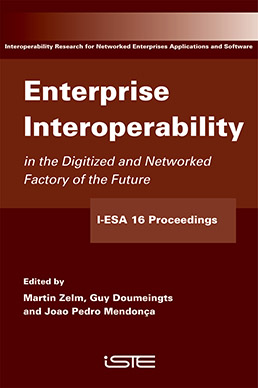 Edited by
Martin Zelm
Guy Doumeingts
Joao Pedro Mendonça

---
ISBN : 9781847040442
Publication Date : September 2016
Softcover 486 pp
170.00 USD
Description
In the economic environment of today, Enterprises recognise the need and the competitive advantage interoperating with suppliers and customers in collaborative networks to develop innovative product-service solutions The I-ESA series of conferences has become a forum where research and industry meet to share ideas and experience, and to discuss problems, innovations and solutions of enterprise inter-operability.

The book contains the papers and the summarised discussions of the Workshops of the 8th International Conference on Enterprise Interoperability I-ESA 16, held March 29-30, 2016 at the University de Minho in Guimaraes, Portugal.

The papers presented are mostly originating from European or national ICT research projects. The topics are similar to that of the conference and aim at Enterprise Interoperability in research and applications in the fields Product Service Systems, Big Data, Interoperability of Cloud collaborative networks, Next Generation Enterprise Modelling and standardisation. Further, you may find the reports of four PhD works on Enterprise Interoperability from a co-organised Doctoral Symposium.
Contents
Workshop A1 – Exploring Solutions and Business Opportunities;in Enterprise Interoperability: The Portuguese Scenario.
Workshop A2 – Sustainable Practices to Improve Interoperability in Manufacturing Engineering.
Workshop A3 – Corporate Standardisation Management.
Workshop B1 – Intelligent Systems Configuration Services for Flexible Dynamic Global Production Networks.
Workshop B2 – Intelligent Transport Systems.
Workshop B3 – Cloud Collaborative Manufacturing Networks.
Workshop B4 – The Sensing Enterprise: Opportunities and Barriers.
Workshop C1 – New Approaches to Product Service Systems.
Workshop C2 – Big Data Interoperability for Enterprises.
Workshop C3 – Interoperability in Crisis Management and Homeland Security.
Workshop C4 – Resilient Production Networks.
DoctoralSymposium.

Downloads

Table of Contents
PDF File 443 Kb