New Challenges for Knowledge
Digital Dynamics to Access and Sharing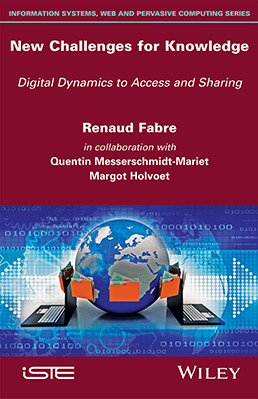 Description
Knowledge management is undergoing a profound change with the rapid evolution of digital knowledge in all its forms; this book provides a thorough insight into the challenges and the potential of this modern type of knowledge and knowledge sharing, in order to unlock its true values and solutions.

New digital technologies are constantly altering the modes of knowledge production, diffusion and valorization, leading to a social and economic reshaping in every field. International scientific collaboration is now possible by the use of dedicated platforms, and editorial models are changing; clarity is required to establish sharing economy models and the fair division of value. National and international confusion about the Internet, science and knowledge is a major obstacle to defining and unlocking the full potential of these new technologies, and law is at the center of this understanding. Historical laws must be adopted, and actors such as universities, researchers, businesses and governments are in need of a clear understanding of this tremendous change.

By exploring three overarching themes, namely the production, sharing and increase in value of knowledge, in the context of law-making, this book provides an insight into the relevant economical and geopolitical stakes. By providing clear information to researchers, students, companies and citizens alike, a clearer understanding of the issues, impacts and potential of digital knowledge can contribute to the creation of new knowledge policies.


Contents
Part 1. Production: Global Knowledge and Science in the Digital Era
1. Current Knowledge Dynamics.
2. Digital Conditions for Knowledge Production.
3. The Dual Relationship between the User and the Developer.
4. Researchers' Uses and Needs for Scientific and Technical Information.
5. New Tools for Knowledge Capture.
6. Modes of Knowledge Sharing and Technologies.
Part 2. Sharing Mechanisms: Knowledge Sharing and the Knowledge-based Economy
7. Business Model for Scientific Publication.
8. Actor Strategy: International Scientific Publishing, Services with High Added Value and Research Communities.
9. New Approaches to Scientific Production.
10. The Geopolitics of Science.
11. Copyright Serving the Market.
Part 3. Enhancement Knowledge Rights and Public Policies in the Wake of Digital Technology
12. Legal Protection of Scientific Research Results in the Humanities and Social Sciences.
14. From Author to Enhancer.
15. The Right to Knowledge: Moving Toward a Universal Law?
16. Governing by Algorithm.
17. Public Data and Science in e-Government.
18. Surveillance, Sousveillance, Improper Capturing.
19. Public Knowledge Policies in the Digital Age.
20. The Politics of Creating Artificial Intelligence.
21. Security Policies in Artificial Intelligence.


About the authors
Renaud Fabre is Head of the Scientific and Technical Information Department (DIST) of the CNRS, France.
in collaboration with Quentin Messerschmidt-Mariet and Margot Holvoet, students in Public Affairs at Sciences Po, France.