Reliability Investigation of LED Devices for Public Light Applications
Durability, Robustness and Reliability of Photonic Devices Set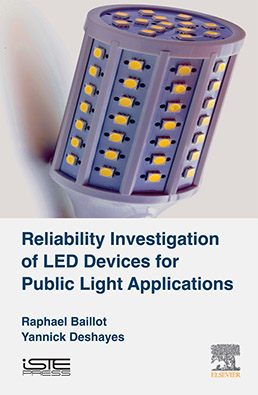 Description
This book focuses on state-of-the-art GaN-based LED technology through the study of typical failure mechanisms in public lighting applications.

Across the different chapters, the reader will explore the tools and analyses involved in the study and application of a number of different LED devices. The authors review GaN-based LED technology by focusing on the main failure mechanisms targeting polymer-based packaging, thanks to electrical and spectral models.

The proposed technology and methodologies will help those interested in the topic to further their knowledge of failure mechanisms, exploring the physical and chemical analyses involved.


Contents
1. Light-emitting Diodes: State-of-the-Art GaN Technologies.
2. Tools and Analysis Methods of Encapsulated LEDs.
3. Failure Analysis Methodology of Blue LEDs.
4. Integration of the Methodology Starting from Component Design.


About the authors
Yannick Deshayes is Associate Professor at the University of Bordeaux, France. His research focuses on the physics of failure, from photonics materials to complex devices.

Raphael Baillot is R&D and innovation director of Sunna Design SA. He leads the overall R&D and innovation roadmap of Sunna Design focused on the development of LED-based solar street lights to bring sustainable solutions to the global market of rural electrification.


Downloads

Table of Contents
PDF File 180 Kb