Methods and Tools for Creative Competitive Intelligence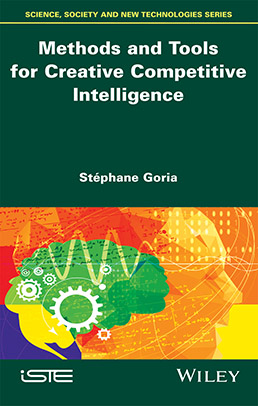 Description
"Creative competitive intelligence" is an information-seeking and monitoring activity of an information environment for the purpose of creativity and innovation. It involves the process leading up to the development of an informational supply adapted to the inspiration of creative or innovative personnel.

This dynamic aims for the recognition of novelties (ideas, products, technologies, etc.), the identification of new players in the world of creation and innovation, and the identification of forgotten or neglected developmental paths.

This book is aimed at readers who already have some experience of innovation and who are now looking for new ways to discover new products under development, anticipate the design of future products, identify unexplored tracks of inventions, develop and analyze innovation strategies, or recognize the emergence of budding artists.


Contents
1. Intelligence and Creative Competitive Intelligence.
2. Researching and Identifying Trends.
3. Formatting, Analysis and Inspiration Using Trends.
4. Presenting and Analyzing Networks.
5. Visual Tools for Problem Solving.
6. Investigating the Past and Present.
7. Inspiration Using TRIZ.
8. Reasoning with the Aid of Operators.
9. Use of Games for Serious Purposes.
10. Diversion of Role-playing Games.
11. Tactical or Strategic Reflection and Wargames.
12. Use of Objective-based Games.
13. Creative Competitive Intelligence and Territorial Intelligence.


About the authors
Stéphane Goria is Assistant Professor in Communication Sciences and a course convener of the Masters in Digital Documentation – Strategic Watch and Knowledge Organizations at the University of Lorraine in France.


Downloads

Table of Contents
PDF File 262 Kb