Digital Humanities
History and Development
Volume 4 – Intellectual Technologies SET Coordinated by Jean-Max Noyer and Maryse Carmès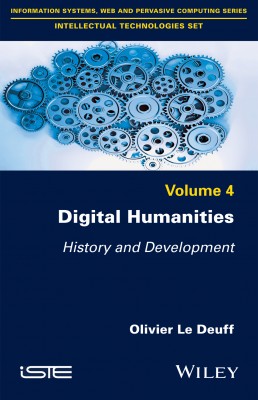 Description
Digital humanities has become an increasingly popular field of study, symbolizing the will of human and social sciences to change and modernize. However, its history has often been presented in a restrained and reduced manner.

This book presents new epistemological and historical perspectives in order to further our understanding of the development of digital humanities, notably by examining links to the ways in which we access information; from the first constitutive logics of exchange networks of the Republic of Letters, through to devices for the indexation of knowledge.

The author analyzes current transformations in the domain of digital humanities by considering the idea that its history represents an evolution rather than a revolution. An archeological approach to knowledge and methods is thus required.

By exploring the debates surrounding digital humanities and its recent successes, this book chronicles the forms and norms which have led, little by little, to its emergence and development.
Contents
1. The Republics of Letters: the Need to Communicate and Exchange.
2. The Science of Writings and Documentation.
3. From Lists to Tables, the Question of Indexing.
4. The Need to Find Information.
5. The Researcher's Workstation and the History of Hypertexts.
6. The Quantitative Leap: Social Sciences and Statistics.
7. Automatic Processing: Concordances, Occurrences and Other Interpretation and Visualization Matrices.
8. Metadata Systems.
9. The New Metrics: From Scientometrics to Webometrics.
10. The Map: More than the Territory.


About the authors
Olivier Le Deuff is a lecturer in Information and Communication Sciences at Bordeaux Montaigne University in France.
Downloads

Table of Contents
PDF File 82 Kb