Marine Genetic Resources, R&D and the Law 1
Complex Objects of Use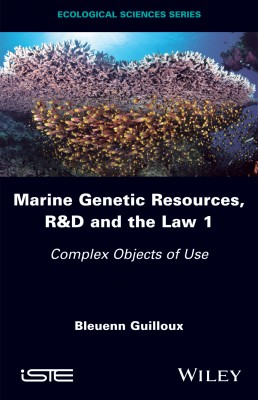 Description
Advances in research and development (R&D) reveal the immense diversity and potential of marine genetic resources. Under international law, no specific regime exists pertaining to these complex objects of use.

Upstream of the R&D chain, the Convention on the Law of the Sea (1982) sets up a framework partially unsuitable for this new category of resources. The Convention on Biological Diversity (1992) and its Nagoya Protocol on Access to Genetic Resources and the Fair and Equitable Sharing of Benefits Arising from their Utilization (2010) cover only those within national spaces.

Downstream of the R&D chain, patents allow the holder to exercise a monopoly over a plethora of biotechnological creations with extensive claims, questioning the common nature of biodiversity and associated modern and traditional knowledge.

Intellectual property rights interfere with research and biodiversity law goals of biodiversity conservation, access to genetic resources, fair and equitable benefit-sharing resulting from the use of genetic resources, and knowledge and technology diffusion.
Contents
1. The Scientific Representation of the Living World: A Dual Concept Between Nature's and Humans' Shares.

Part 1. Singular Objects Moving Toward Reservation
2. Exploitable Raw Materials.
3. Patentable Biotechnological Inventions.

Part 2. Global Objects Moving Toward Sharing
4. Residual Res Communes.
5. Reconstructing the Commons.

Appendix 1. Classical Marine Bioprospecting: Biochemistry and Genetic Engineering.
Appendix 2. Modern Marine Bioprospecting: Metagenomics.
Appendix 3. The Drug research and Development Steps.
Appendix 4. Risk Assessment in the Bioprospecting Process.
Appendix 5. Aleatory Component Comparison in Fishing and Bioprospecting.
Appendix 6. Patent Claims Over Genes of Marine Origin.
Appendix 7. Illustrative Database on Marine Biotechnological Innovations.

About the authors
Bleuenn Guilloux has a PhD in law and is a research fellow within the Cluster of Excellence "The Future Ocean" at the Walther Schücking Institute for International Law, Kiel, Germany. She is an expert in Law of the Sea, environmental law and the legal aspects of R&D.
Downloads

Table of Contents
PDF File 185 Kb