Wearables, Smart Textiles & Smart Apparel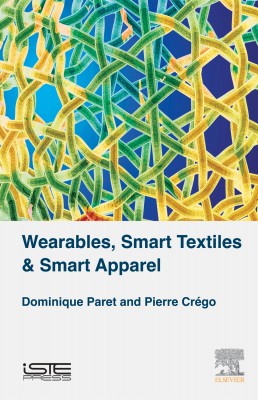 Description
The industrial interest in Wearables, smart textiles and smart apparel is growing. This book focuses on concrete aspects of this domain and is intended for readers wishing to familiarize themselves with the complex issues surrounding smart textiles and smart apparel applications, and for those who design new products in the field.

The first part includes a concrete and detailed discussion of terms, markets, trends, standardization, regulations, personal data, security constraints, etc.

The second part presents many technical/physical specifics (optical, electrical, electronic, etc.) and examples of conventional Wearables and smart fibers, textiles and fabrics, used in smart apparel for fashion, well-being, sport, professional applications, safety (PPE) and medical fields.

The last part develops technologies, components and aspects of connectivity that are and will be used in this market segment, and presents the economical and cost aspects of Wearables and smart apparel in detail.
Contents
Part 1. Introduction to the World of Wearables
1. Definitions and Position.
2. Non-textile and Textile Wearables.
3. The Market – the Applications.

Part 2. Constraints of a Wearable Project
4. Aspects to Take into Consideration for Wearables, Smart Textiles and Smart Apparel.

Part 3. Examples of Non-textile Wearables and Smart Textiles and Apparel
5. Examples of Non-textile Wearables.
6. Examples of Smart Fibers and Smart Textiles.
7. The Future of Smart Fibers and Smart Textiles.
8. Examples of Smart Apparel.

Part 4. The Technologies Behind Wearables
9. Components.

Part 5. Wearables: Smart Apparel, RF Connectivity and Big Data
10. RF Connectivity in Wearables.
11. Global Architecture of Wearables: Connected Textiles.

Part 6. Description of the Wearables and Connected Textiles Chain
12. Chain for a Connected Wearable.

Part 7. Concrete Realization of a Wearables/Smart Textiles Solution: Examples and Costs.
13. Examples of Concrete Realization of Wearables: Smart Connected Apparel.
14. Cost Aspects.


About the authors
Dominique Paret is an Engineer ESIEE/DEA of Physics and was responsible for the technical support of an international leader of electronic components (NXP) for 40 years. Professor in numerous engineering schools in France as well as abroad, he now runs a company of consultants/technical experts.

Pierre Crégo is a Microelectronics Engineer and the CEO of Mercury Technologies. He has worked as a security payment expert for contactless cards and reader technologies at STM, Alcatel, AT&T and Gemalto. He is also an official "lead auditor" regarding GDPR Audit and Data Protection Office Structure.

Downloads

Table of Contents
PDF File 115 Kb