Reformulation and Acquisition of Linguistic Complexity
Crosslinguistic Perspective
Volume 2 - Interaction of Syntax and Semantics in Discourse SET Coordinated by Claire Doquet and Elisabeth Richard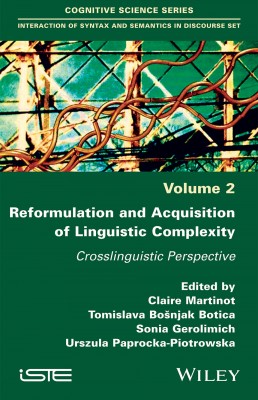 Edited by
Claire Martinot, Paris-Sorbonne University, France
Tomislava Bošnjak Botica, Institute of the Croatian Language and Linguistics of Zagreb, Croatia
Sonia Gerolimich, University of Udine, Italy
Urszula Paprocka-Piotrowska, John Paul II Catholic University of Lublin, Poland

---
Description
Reformulation and Acquisition of Linguistic Complexity proposes a new answer to the question of the appropriation or acquisition of a mother tongue – a complex object, one that is both stable and perpetually evolving. This answer is based on the reformulating principle that children spontaneously apply; a principle that is illustrated here with children retelling the same story. These children are all 6, 8 or 10 years old and speak French, Italian, Croatian or Polish as a first language.

This book demonstrates that the acquisition of any mother tongue is explained by the application of various reformulation procedures between source predications and reformulated predications. These procedures are comparable from one language to another, and different from one age group to another. This book also studies certain complex phenomena at the lexical and syntactical levels, and analyzes how children, depending on their age, treat these phenomena. Finally, we show that the acquisition of a mother tongue is a fundamentally linguistic activity.
Contents
1. Why Must We Search for a New Explanation for the Acquisition of a Mother Tongue?, Claire Martinot.
2. Describing the Experimental Investigation, Tomislava Bošnjak Botica, Jelena Kuvac Kraljevic and Kristina Vujnovic Malivuk.
3. Reformulation Procedures in French, Claire Martinot.
4. Reformulation Procedures in Italian, Sonia Gerolimich and Cristina Castellani.
5. Reformulation Procedures in Croatian, Tomislava Bošnjak Botica, Jelena Kuvac Kraljevic and Kristina Vujnovic Malivuk.
6. Reformulation Procedures in Polish, Urszula Paprocka-Piotrowska, Katarzyna Karpinska-Szaj and Bernadeta Wojciechowska.
7. Comparing Languages in the Process of Acquisition, Claire Martinot, Sonia Gerolimich, Tomislava Bošnjak Botica and Urszula Paprocka-Piotrowska.


About the authors
Claire Martinot is Professor of Linguistics at Paris-Sorbonne University, France.

Tomislava Bošnjak Botica is a Full Member of the Institute of the Croatian Language and Linguistics of Zagreb, Croatia.

Sonia Gerolimich is Lecturer of the French Language at the University of Udine, Italy.

Urszula Paprocka-Piotrowska is Professor of Acquisition and Didactics of Languages at the John Paul II Catholic University of Lublin, Poland.
Downloads

Table of Contents
PDF File 121 Kb