3D Printing of Concrete
State of the Art and Challenges of the Digital Construction Revolution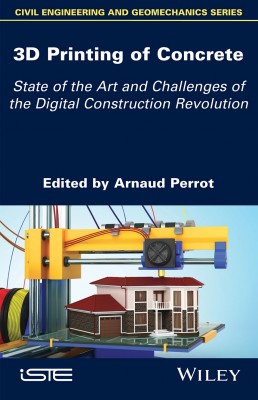 Description
The introduction of digital manufacturing techniques, such as 3D printing applied to concrete material, opens up new perspectives on the way in which buildings are designed. Research on this theme is thriving and there is a high rate of innovation related to concrete. At the same time, the first life-size constructions made from printed concrete are emerging from the ground.

This book presents state-of-the-art knowledge on the different printing processes as well as on the concrete material that must adapt to these new manufacturing techniques, such as new hardware and new printers for concrete. The possibilities in terms of architectural design are discussed as well as the pathways that remain to be uncovered. The book also explores the challenges that researchers and companies expect to overcome as they get closer to democratizing this potential revolution that is the digital manufacturing of concrete.
Contents
1. 3D Printing in Concrete: General Considerations and Technologies, Arnaud Perrot and Sofiane Amziane.
2. 3D Printing in Concrete: Techniques for Extrusion/Casting, Arnaud Perrot and Damien Rangeard.
3. 3D Printing by Selective Binding in a Particle Bed: Principles and Challenges, Alexandre Pierre and Arnaud Perrot.
4. Mechanical Behavior of 3D Printed Cement Materials, Mohammed Sonebi, Sofiane Amziane and Arnaud Perrot.
5. 3D Printing with Concrete: Impact and Designs of Structures, Arnaud Perrot and Damien Rangeard.

About the authors
Arnaud Perrot has been Research Professor at Université Bretagne Sud, France, since 2007. He is the author of over 50 scientific articles in the field of the implementation and rheology of cement-based materials.
Downloads

Table of Contents
PDF File 86 Kb