Learner Support in Online Learning Environments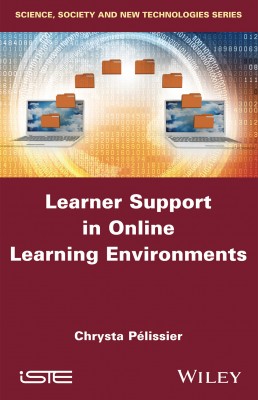 Description
We are at a crucial time for the production and dissemination of knowledge – one in which the scientific community is questioning the nature of the digital humanities. Within this context, Learner Support in Online Learning Environments proposes, by taking into consideration the notion of assistance in a learning context, an original method of positioning digital resources for teachers, students and researchers in the humanities and social sciences.

Questioning existing theoretical frameworks and prototypes, learner support in digital environments is presented as both a process and a result integrating a variety of resources. Some of these resources already exist, some may be adapted from existing objects and still others have yet to be imagined. The end goal is to facilitate both independent and group-based learning activities.
Contents
Part 1. Definition of Assistance in the Digital Humanities Field
1. Digital Humanities Context.
2. Digital Assistance Concept.

Part 2. Digital Assistance in the Researcher's Activity
3. Digital Assistance in the Researcher's Activity.
4. The Place of Digital Assistance in Professionalization.
5. Action Researcher Model for a Cognitively Increased Humanity.


About the authors
Chrysta Pélissier is Maître de Conferences in Language Sciences at the University of Montpellier, France. Her research focuses on the design of assistance technologies for digital learning environments.
Downloads

Table of Contents
PDF File 91 Kb