Discourse
A Concept for Information and Communication Sciences
Volume 4 - Concepts to Conceive 21st Century Society SET Coordinated by Valérie Larroche and Olivier Dupont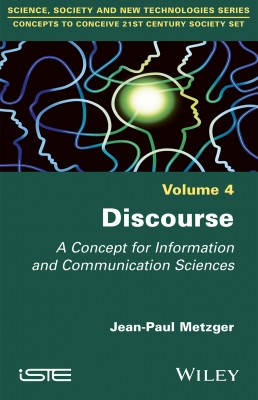 Description
Discourse is not just a means of expressing thought; it is also an autonomous body, an act through which we aim to achieve a certain effect. Modern linguistics proposes a broader definition of discourse, as a discrete and unique enunciative process, where the speaker or author makes language concrete through speech (in the Saussurian sense), and describes the various acts (oral, illocutionary, perlocutionary) that discourse performs.

This book examines discourse, an object of analysis and criticism, from a wide range of perspectives. Among the concepts explored are the contributions of rhetoric in the art of discourse, the evolution of multiple approaches and the main methods of discourse analysis conducted by a variety of researchers. The book deepens our knowledge and understanding of discourse, a concept on which any research related to information and communication can be based.
Contents
Part 1. Epistemological Foundations
1. The Art of Discourse: Rhetoric.
2. Discourse Analysis.
3. Interdiscourse.
4. Discourse and Communication.

Part 2. Discourse Analyses Developed in the Information and Communication Sciences
5. Sociolinguistic Analysis.
6. Content Analysis.
7. Documentary Analysis.
8. Logometry.


About the authors
Jean-Paul Metzger is a former Professor of Information Sciences and Communication at University of Lyon, France, where he founded the ERSICO research center
Downloads

Table of Contents
PDF File 91 Kb