Project Risks
Actions Around Uncertainty in Urban Planning and Infrastructure Development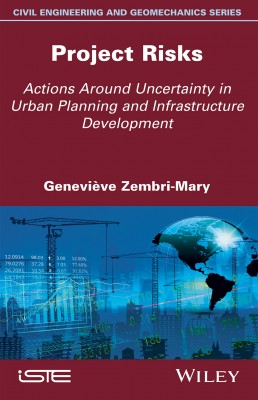 Description
Those tasked with the planning and construction of infrastructure and development operations face an increasingly uncertain context in which they must address risks across a number of different fields. These range from the environmental and archaeological to the social, political and financial. As a consequence, the formal and informal practices of stakeholders often incorporate projections of risk and opportunity.

Project Risks analyzes this paradigm shift. It reviews the origin and nature of these uncertainties, and the practices implemented by the actors to mitigate or take advantage of them. Paradoxically, these practices generate new risks and power relations that are not compatible with the collaborative planning model. These paradoxes force the rethinking of practices such as project territorialization, risk taking in planning and the responsibility of actors, as well as the societal and political choices that must be made between the realization of projects and the protection of the environment.

Contents
1. The Uncertain Environment of Project Planning and Production Process.
2. How Can We Define Uncertainties and Risks? Risk from a Theoretical Point of View.
3. Diachronic Approach to Taking Risks and Uncertainties into Account in Planning, Consultation, Evaluation, Financing, and Project Implementation Practices.
4. How do Risks Manifest Themselves in Projects.
5. Addressing or Taking Advantage of Risks Allows Actors to Build Power Relationships.
6. The Paradoxes of Project Planning and Management.




About the authors
Geneviève Zembri-Mary is a Senior Lecturer at the University of Cergy-Pontoise (Greater Paris, France). Within the university's MRTE research centre, her comparative research in urban studies focuses on uncertainty, risk in planning and project design.

Downloads

Table of Contents
PDF File 187 Kb