Innovation and Industrial Policies
Volume 5 - Innovation between Risk and Reward Set Coordinated by Bernard Guilhon and Sandra Montchaud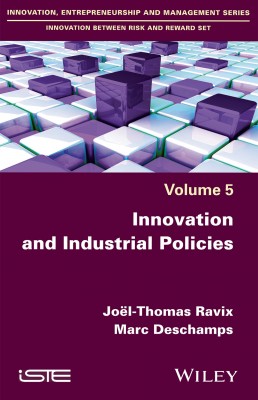 Description
Microeconomic policies – in particular, industrial and innovation policies – are appraised and enforced within the framework of the rules relative to free movement and competition.

This book introduces the current wave of innovative industrial policies in France. By giving a historical context to their development, the evolution of key economic concepts and theories are put into perspective.

In addition, with the aim of articulating horizontal and vertical interventions, this book analyzes the difficulties for public authorities when it comes to linking these "matrix" policies.
Contents
1. Industrial Policy and Competition.
2. Competition and Innovation Policy.
3. Reindustrialization Through Innovation.

About the authors
Joël-Thomas RAVIX is Professor of Economics at the University of Côte d'Azur and Member of the GREDEG-CNRS (Research Group in Law, Economics and Management), France.

Marc DESCHAMPS is Associate Professor in Economics at the University of Bourgogne-Franche-Comté and Member of CRESE (Economic Strategies Research Center) in Besançon, France. He is also Associate Member of BETA-CNRS and Affiliated Member of OFCE-Sciences Po.
Downloads

Table of Contents
PDF File 83 Kb