Nuclear Accidents
Prevention and Management of an Accidental Crisis
Volume 3 - Radioactive Risk SET Coordinated by Jean-Claude Amiard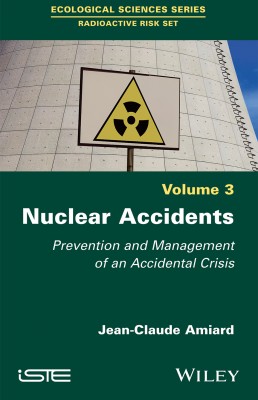 Description
Detailing the estimation and perception of nuclear risk, this book follows military and civilian nuclear accidents, plus the systems put in place by national and international authorities for recording and analyzing feedback. Prevention and anticipation being the best defenses against a nuclear accident, the authorities have also categorized the different types of accidents, and are doing research to better understand and control them.

In light of this, this book shows how the authorities take practical measures to protect neighboring populations and limit radioactive contamination of the environment. France's experience in this arena is well-documented and a chapter of this book is devoted to the fight against terrorist attacks in the nuclear field.

Nuclear Accidents is based on scientifically-recognized publications, as well as on reports from the various countries concerned, and the national and international organizations competent in this field (IAEA, WHO, UNSCEAR, IRSN, etc.).


Contents
1. Assessment and Perception of Nuclear Risk.
2. Lessons from the Past in the Field of Nuclear Accidents.
3. Research for the Future.
4. Management of the Emergency Phase of a Nuclear Accident.
5. Management of the Post-accident Phase.
6. Terrorist Attacks and Nuclear Security.
7. General Conclusions.

About the authors
Jean-Claude Amiard is a State Doctor in Radioecology, Emeritus Research Director at CNRS (University of Nantes) and former Associate Professor in Quebec and China. He is the author of more than 200 publications, 76 books or chapters and 150 papers for international conferences.
Downloads

Table of Contents
PDF File 99 Kb