New Territories in Health
Volume 3 - Health Information SET Coordinated by Viviane Clavier and Céline Paganelli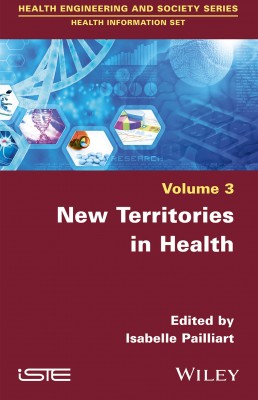 Description
The third volume in the "Health Information" set, New Territories in Health focuses on the multifaceted spheres of influence or "territories" in the field of health.

This book includes nine contributions – based on the analysis of stakeholder logics – that approach the relationships between health and territories. The authors – all specialists – offer original insights, enhanced by in-depth studies, on the multiple forms that this territorialization takes: political and institutional, professional and organizational, public and media.
Contents
1. In a One Health Perspective, Jocelyne Arquembourg.
2. "Our Health in Danger." The Extension of Sanitization through Media Coverage of Health Alerts. Que Choisir, 60 millions de consommateurs, 2008–2018, Benoit Lafon.
3. Communication and Environmental Health in Critical American Approaches, Brigitte Juanals.
4. Health, Environment and Nuclear Energy: Temporalities and Trajectories of Collective Mobilizations, Mikaël Chambru.
5. Public Health Controversies: The Scattering of Arenas and Politicization. The Case of Vaccination in France during the 2010s,
Caroline Ollivier-Yaniv.
6. Internet User-Patient(s), a Collective Adventure, Cécile Méadel.
7. Interferences and Territorial Conflicts: The Case of the Electronic Medical Record, Roxana Ologeanu-Taddei and David Morquin.
8. Professional Practices and Organizational Issues. The Case of Medical Regulating Assistants, Aurélia Lamy, Céline Matuszak, Eric Kergosien, Natalia Grabar and Pierre Valette.
9. The Moral Economy of the Health "Territories." Technocratization from the Top-Down of Biopolitics, Politicization from the Bottom-Up of Life Policies, Frédéric Pierru.




About the authors
Isabelle Pailliart is a Professor and Director of GRESEC at Grenoble Alpes University, France.
Downloads

Table of Contents
PDF File 196 Kb