Entrepreneurship and Innovation Education
Frameworks and Tools
Volume 32 - Smart Innovation SET Coordinated by Dimitri Uzunidis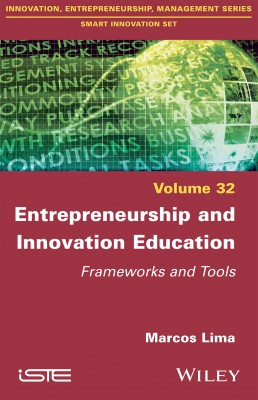 Description
This book is a compilation of tools, techniques and frameworks for use in the field of entrepreneurship and innovation (E&I) education. Developed and honed over the past two decades, these teaching approaches are combined with well-versed practical insight.

As professors know all too well, the human brain cannot articulate more than three or four dimensions of a problem without the aid of what could be referred to as "checklists for thinking": frameworks (visual or otherwise) that help students think in terms of multiple variables affecting a problem.

Entrepreneurship and Innovation Education provides a "toolbox" of more than 50 frameworks for analyzing entrepreneurship and innovation problems, and for enabling effective decision-making. It is a useful guide for professors and students alike who are looking for an overview of available tools, methods and approaches to actively learn how to go from the visionary idea to the market.
Contents
1. E&I Education: An Overview.
2. From Idea to Vision.
3. From Vision to Business Plan.
4. From Business Plan to Business Model.
5. From Business Model Design to Design Thinking and Lean Startup.
6. Scaling Up: The Challenges of Knowledge Management.
7. Epilogue: Insights from Twenty Years of Teaching E&I.
About the authors
Marcos Lima holds a PhD in Information and Communication Technologies from the Federal University of Bahia, Brazil. He currently teaches at SKEMA Business School in France. Over the last 20 years he has taught primarily in the fields of innovation and marketing. He has extensive expertise in active learning methods, having previously co-authored the books, Teaching with Cases and Réussir mes études de cas, both of which make considerable use of the framework-based approach.
Downloads

Table of Contents
PDF File 91 Kb