The Digital Revolution in Health
Volume 2 - Health and Innovation SET Coordinated by Corinne Grenier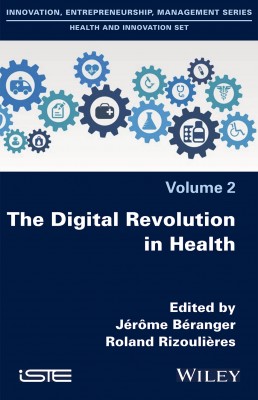 Description
What sort of health system do we want to implement in the face of the imminent arrival of artificial intelligence and robotics in medical practices? The Covid-19 health crisis has demonstrated the importance of digital technologies in the care of patients and their families, as imperative attention was called to ethics and relational practice.

This book analyzes numerous sources of feedback to reveal the multiple facets of this so-called Medicine 4.0. It reveals the extent to which digital medicine requires new forms of organization and new approaches to co-conception, in a logic that is resolutely collaborative with patients. The book concludes with legal and ethical points of view in order to challenge the reader on their duty to truly be an "actor" of their health care.
Contents
Part 1. The Health System and Digital Technology: Challenges, Issues, and Transformations
1. Digital Integration and Healthcare Pathways in the Territories, Roland Rizoulières.
2. Digital Technology in a Cancer Patient's Primary-Secondary Care Journey, Marie-Ève Rougé-Bugat.
3. A Smart Health Record for Better Coordination: A Sociological Analysis of the Organizational Dynamics of the Calipso Project, Valentin Berthou.

Part 2. Digital Technology and Transformations in the Relationships between Professionals and Patients
4. Use of AI Systems in the Care Relationship, Redefining Patient and Physician Roles, Anthéa Sérafin.
5. Artificial Intelligence Ethics in Medicine, Loïc Étienne.
6. Digital andP ublicHealth in West Africa, Alpha Ahmadou Diallo.

Part 3. Supporting Digital Healthcare
7. Designing and Innovating in Digital Healthcare: Co-design for Taking Patients' Needs into Account, Corinne Grenier, Rym Ibrahim and Susana Paixão-Barradas.
8. Ethical Governance and Responsibility in Digital Medicine: The Case of Artificial Intelligence, Jérôme Béranger.
9. Legal Focus on the Notions of Telemedicine and E-Health, Lina Williatte.
About the authors
Jérôme Béranger is a scientific expert on the ethical approach of the digital revolution and Ethics by Evolution. He is a co-founder of ADELIAA and is also an associate researcher in the Inserm BIOETHICS team at the University of Toulouse III, France.

Roland Rizoulières is a health economist, a lecturer at Sciences Po Aix, France, and a researcher at INSERM. He is also a senior commissioner at the Army Health Service (Army Epidemiology and Public Health Center).
Downloads

Table of Contents
PDF File 207 Kb