From AI to Autonomous and Connected Vehicles
Advanced Driver-Assistance Systems (ADAS)
Volume 2 - Digital Science SET Coordinated by Abdelkhalak El Hami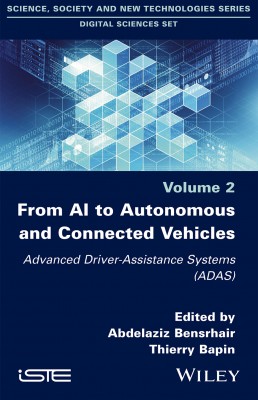 Description
The main topic of this book is the recent development of on-board advanced driver-assistance systems (ADAS), which we can already tell will eventually contribute to the autonomous and connected vehicles of tomorrow.

With the development of automated mobility, it becomes necessary to design a series of modules which, from the data produced by on-board or remote information sources, will enable the construction of a completely automated driving system. These modules are perception, decision and action.
State-of-the-art AI techniques and their potential applications in the field of autonomous vehicles are described. Perception systems, focusing on visual sensors, the decision module and the prototyping, testing and evaluation of ADAS systems are all presented for effective implementation on autonomous and connected vehicles.

This book also addresses cooperative systems, such as pedestrian detection, as well as the legal issues in the use of autonomous vehicles in open environments.
Contents
1. Artificial Intelligence for Vehicles, Gérard Yahiaoui.
2. Conventional Vision or Not: A Selection of Low-level Algorithms, Fabien Bonardi, Samia Bouchafa, Hicham Hadj-Abdelkader and
Désiré Sidibé.
3. Automated Driving, a Question of Trajectory Planning, Olivier Orfila, Dominique Gruyer and Rémi Sainct.
4. From Virtual to Real, How to Prototype, Test, Evaluate and Validate ADAS for the Automated and Connected Vehicle?, Dominique Gruyer, Serge Laverdure, Jean-Sébastien Berthy, Philippe Desouza and Mokrane Hadj-Bachir.
5. Standards for Cooperative Intelligent Transport Systems (C-ITS), Thierry Ernst.
6. The Integration of Pedestrian Orientation for the Benefit of ADAS: A Moroccan Case Study, Aouatif Amine, Abdelaziz Bensrhair, Safaa Dafrallah and
Stéphane Mousset.
7. Autonomous Vehicle: What Legal Issues?, Axelle Offroy.
About the authors
Abdelaziz Bensrhair is a professor at the INSA Rouen Normandie, France. He is the founding manager of the pedagogical chair of excellence in autonomous and connected vehicles (INSA Rouen Normandie and the ADAS Group of the NextMove cluster) and is an expert in the automotive and mobility R&D cluster NextMove. His research in focused on the field of Intelligent Transport Systems.

Thierry Bapin has a scientific and legal background and is currently deputy general manager at NextMove, the French competitiveness cluster for automotive and mobility industry. He also coordinates the ADAS Group, manages programs for the creation and development of services for NextMove members (SMEs, higher education and research institutions and local authorities) and is in charge of the sector in the Normandy region.
Downloads

Table of Contents
PDF File 194 Kb