Electricity Production from Renewable Energies
Second Edition Revised and Updated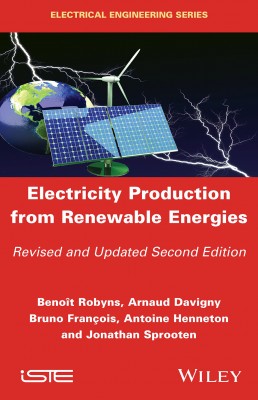 Benoît Robyns, Junia Graduate School of Engineering, France
Arnaud Davigny, L2EP, France
Bruno François, Centrale Lille Institute, France
Antoine Henneton, Junia Graduate School of Engineering, France
Jonathan Sprooten, Elia, Belgium

---
Description
Since the early 2000s, energy and environmental issues have led to a marked increase in electricity production from renewable energy sources. Sustainable development and concern for future generations constantly challenge us to develop new technologies for energy production, as well as new energy usage patterns. Their rapid emergence can make these new technologies difficult to understand and can thus affect perceptions. Directed towards a broad audience, this book contributes to a better understanding of new electricity generation technologies. It presents the issues, sources and means of conversion using a general approach, while developing scientific concepts to understand their main technical characteristics.

This revised and extended second edition presents current data characterizing the development of these renewable energy sources, covering emerging photovoltaic and tidal technologies, offshore wind power, and recent developments on the integration of these sources into the electricity grid. The emergence of self-production and self-consumption is also addressed. In addition, several exercises provide the reader with an opportunity to evaluate their understanding.

Contents
1. Electricity Production from Renewable Energy.
2. Solar Photovoltaic Power.
3. Wind Power.
4. Terrestrial and Marine Hydroelectricity.
5. Thermal Power Generation.
6. Integration of Decentralized Production into the Electrical Network.

About the authors
Benoît Robyns is Deputy Scientific Director at Junia Graduate School of Engineering, Vice President of Energy and Societal Transition at Lille Catholic University and Head of the Power Systems Team at L2EP.

Arnaud Davigny is a lecturer at Junia Graduate School of Engineering and a researcher at L2EP.

Bruno François is Professor in Electrical Engineering at Centrale Lille Institute and a researcher at L2EP.

Antoine Henneton is Head of the Project and Valorisation Hub at Junia Graduate School of Engineering.

Jonathan Sprooten is a Power System Planning team manager with the department of Grid Development of Elia, the Belgian transmission system operator.

Downloads

Table of Contents
PDF File 117 Kb