Drinking Water Treatment 4
Membranes Applied to Drinking Water and Desalination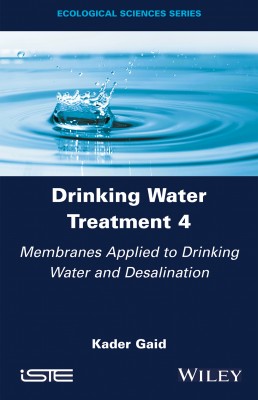 Description
Today, hundreds of millions of people drink contaminated water without knowing it. Yet water treatment technologies can effectively eliminate contamination and can supply urban and rural populations with safe drinking water in a secure way.

For almost two centuries, the huge number of treatments available to guarantee water quality has grown alongside technological progress, the strengthening of industry norms and the reinforcement of consumer expectations. New treatment methods have been developed according to the advancement of knowledge and new sanitary regulations.

This five-volume book sets out to clearly present the variety of treatments available along with their performance, limitations and conditions of use as well as ways to combine them to produce safe drinking water, which is a basic need essential to everyday life.

The author shares his expertise acquired at Veolia, a company that is a world leader in water services and sanitation, desalination of sea water and the recycling of wastewater. Founded in France in 1853 to bring safe water to populations and to protect them from waterborne epidemics which ravaged cities, its history is intertwined with that of water treatment.
Contents
17. Microfiltration and Ultrafiltration.
18. Nanofiltration and Reverse Osmosis.
19. Desalination by Reverse Osmosis.

About the authors
Kader Gaid is a doctor of physical sciences, specifically environmental process engineering. A professor and researcher at the Alger University of Science and Technology Houari Boumédiène (Algeria), he has been an expert in drinking water at the worldwide company Veolia for over 25 years.
Downloads

Table of Contents
PDF File 169 Kb