Digital Transformation and Public Policies
Current Issues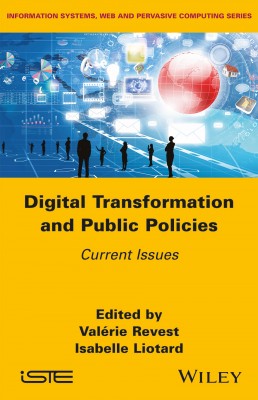 Description
The extent of digitalization and the use of digital tools no longer need to be demonstrated. While companies have been integrating the challenges of such a transformation for more than 20 years, the public sector is lagging behind.

Digital Transformation and Public Policies studies the mechanisms of the digital transformation of public organizations. It explores how this new deal, driven mainly by platforms, resonates with new public policies and how digital technology is redrawing the relationship between the governors and the governed.

This book, the result of transdisciplinary collaboration between researchers, aims to answer these questions by focusing on several cases: public innovation policies, health data and social policies with fiscal microsimulation devices.

Contents
1. From Crowdsourcing to Inclusiveness: The European Experience of Innovation Contests, Isabelle Liotard and Valérie Revest.
2. The Regulation of Public Data: The Difficult Case of the Health Sector, Audrey Vézian.
3. Access Policies to Digital Resources of Administration through the Lens of Microsimulation, Franck Bessis and Paul Cotton.
4. How to Characterize Public Innovation Platforms? Crossed Perspectives, Isabelle Liotard, Valérie Revest and Claudine Gay.

About the authors
Valérie Revest is Professor of Economics at the Université Jean Moulin Lyon 3, iaelyon School of Management – Magellan, France. Her research focuses on the financing of innovation, digital platforms and the transformation of public innovation policies.

Isabelle Liotard is a lecturer in economics at the Université Sorbonne Paris Nord – CEPN, France. Her research focuses on the digital economy, innovation and the effects of digital transformation on companies and the public sector.

Downloads

Table of Contents
PDF File 190 Kb