Technologies and African Societies in Pandemic Times
Using Technology to Survive and Thrive During the Covid-19 Era
Volume 2 - Africa Digital Age Set by Jean-Paul Bourrières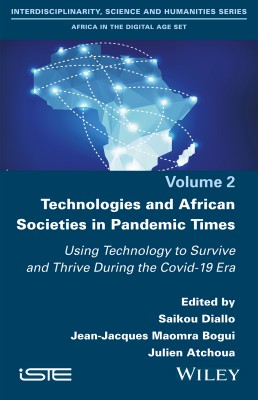 Edited by
Saikou Diallo, Virginia Modeling Analysis Center, USA.
Jean-Jacques Maomra Bogui, University of Félix Houphouët-Boigny, Côte d'Ivoire.

Julien Atchoua, University of Félix Houphouët-Boigny, Côte d'Ivoire.

---
Description
In February 2020, the Coronavirus pandemic became a worldwide health emergency, and in April of that year, the ITU and the WHO created a joint declaration to show their commitment to using ICTs to overcome the pandemic.

Technologies and African Societies in Pandemic Times explores the impact of Covid-19 on African societies in North and West Africa through the lens of technology and social media.

The authors of this book highlight how everyday people dealt with the pandemic from its onset, through the process of the development of the vaccine and to its eventual dissemination. This book tells stories of survival, of coping and, eventually, of economically thriving.

The authors also describe how, in this extremely challenging moment for humanity, people used music, art and social media to reinvent the community, to share joy and pain and to try to remain connected.

Contents
Part 1. Covid-19, Information, and Communication.
1. Reinventing Everyday Life in the Covid-19 Era: The Uses of Information and Communication Technologies as Tactics in an Abidjanese "Ordinary Courtyard", Youssouf Soumahoro.
2. Ambivalence of the Use of Digital Technologies in Public Communication About the Pandemic in Côte d'Ivoire, Nanga Désiré Coulibaly.
3. Fake News and Anti-Covid-19 Vaccines: Analysis of Facebook Users in Burkina Faso, Marcel Bagare.

Part 2. Covid, Art and Culture.
4. Covid-19 Crisis and Musical Creation for Public Awareness in Africa, Julien Atchoua.
5. Rethinking Theatrical Performances in the Covid-19 Era: Strategies and Perspectives, Losséni Fanny.
6. Tourism and the Pandemic: How to be Resilient and Creative Thanks to NICTs. Case study: Aloha Surf Camp in Morocco, Hanane Mabrouk and John Van Den Plas.

Part 3. Business, Education and Covid.
7. Digital Technologies to Support Learning in the University Environment During the Pandemic at UFHB: From Hope to Disillusionment, Jean-Jacques Maomra Bogui.
8. The Use of ICT by Students of the University Ibn Zohr During Covid-19: Uses and Representations, Abderrahmane Amsidder, Samar Chakhrati and Semaya El Boutouly.
9. Digital Communication for the Continuity of Socioeconomic Activities in Times of Covid-19 in Côte d'Ivoire: An Inventory of the Uses of ICTs, Bassémory Koné.


About the authors
Saikou Diallo is a scientist and educator in the domain of innovation and equal access to technology. He is passionate about using technology to connect people on all spectrums and artificial beings.

Jean-Jacques Maomra Bogui is Associate Professor at Université Félix Houphouët-Boigny, Côte d'Ivoire. His research interests focus on the uses and appropriation of digital technologies, the internationalization of communications and the analysis of the reception of cultural goods.

Julien Atchoua is a psychologist and teacher-researcher in Political Communication at Université Félix Houphouët-Boigny, Côte d'Ivoire. He is also Director at the Centre d'études et de recherches en communication (CERCOM), Abidjan, Côte d'Ivoire.

Downloads

Table of Contents
PDF File 163 Kb