Animal Suffering
The Ethics and Politics of Animal Lives
SCIENCES - Bioethics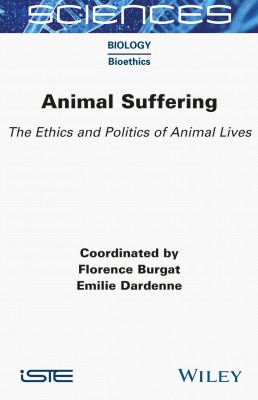 Description
This interdisciplinary volume deals with the most painful situations encountered by animals in the wild or under human guardianship. It seeks to illustrate some remarkable cases and present a general picture of the commodification of animals.

This volume starts with an exploration of the capture of animals intended for European zoological parks, the treatment of animals in South Korea, pig farming in China and animal testing in Europe. It goes on to explore animal politics, with a focus on Europe. The moral problems posed by the different types of harm caused to animals are then approached from the vantage point of moral philosophy.

Finally, the points of view of veterinary sciences and applied ethics related to animal emotions, suffering and death complete the picture.

Contents
1. Extraction and Captive Management of Wild Animals, 18th Century to Present Day, Violette Pouillard.
2. Pig Welfare in China, Peter J. Li.
3. Dogs "Outside the Law": An Ethnographic Look at Animal Lives in South Korea, Julien Dignoille.
4. The Legal Status of Animals in European Law, Fabien Marchadier.
5. How Do the Regulations and the Various Stakeholders Take the Pain of Animals Subjected to Experimental Procedures into Account? Muriel Obriet.
6. Altruism Towards Animals and the Economy, Romain Espinosa.
7. Causing Pain versus Killing, Tatjana Visak.
8. Wild Animal Suffering, Oscar Horta.
9. Reflections on the Ethics of Veterinary Medicine, Philippe Devienne.
10. Pain and Fear in Fishes: Implications for the Humane Use of Fishes, Lynne U. Sneddon.
11. Welfare, Sentience and Pain: Concepts, Ethics and Attitudes, Donald M. Broom.



About the authors
Florence Burgat is head of research in philosophy at INRAE, seconded at l'ENS, Paris. Her work focuses on animal existence, especially from a phenomenological perspective.

Emilie Dardenne is senior lecturer in English and animal studies at Université Rennes 2, France, where she heads the animals and society teaching program. Her research interests include mainstream and critical animal studies.

Downloads

Table of Contents
PDF File 168 Kb