Refrigerators, Heat Pumps and Reverse Cycle Engines
Principles, State of the Art and Trends
SCIENCES - Physics of Energy and Energy Efficiency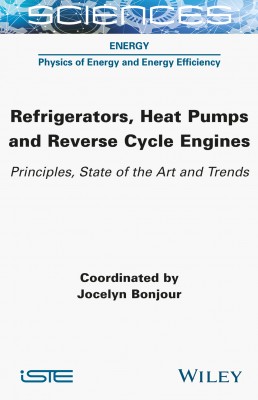 Description
In the context of global warming and the energy transition, two essential questions arise: how to cool environments without major environmental impact and how to produce heat efficiently without combustion. These questions reveal a reversal of the energy paradigm that has prevailed since the Industrial Revolution, when the challenge was to produce work from heat.

Reverse cycle thermal machines (refrigeration systems, heat pumps and thermofridges), operating in reverse of the thermo-mechanical conversion motor cycle, have a major role to play in answering these questions, which are at the heart of the energy challenges that humanity will have to face in the coming decades.

This book first presents a state of the art on these systems, whose operating principle is sometimes old, but whose performance analysis and optimization have sometimes been neglected. Emerging technologies, which will certainly find their place in the future energy panorama, are also discussed.

Contents
1. Heating and Cooling by Reverse Cycle Engines: State of the Art, Philippe Haberschill and Rémi Revellin.
2. Entropy and Exergy Analyses Applied to Reverse Cycles, Jocelyn Bonjour and Rémi Revellin.
3. Thermodynamics and Optimization of Reverse Cycle Engines, Michel Feidt.
4. Scientific and Technological Challenges of Thermal Compression Refrigerating Systems, Florine Giraud, Romuald Rullière and Jocelyn Bonjour.
5. Magnetocaloric Refrigeration: Principle and Applications, Monica Siroux.
6. Thermoelectric Systems as an Alternative to Reverse Cycle Engines, Julien Ramousse and Stéphane Pailhès.

About the authors
Jocelyn Bonjour is Professor in thermodynamics and its application to energy conversion systems. He is a member of the International Institute of Refrigeration and conducts research aimed at improving the efficiency of refrigeration machines and heat pumps.
Downloads

Table of Contents
PDF File 159 Kb