Blockchain Applications in Healthcare
Innovations and Practices
Volume 1 - International Perspectives in Decision Analytics and Operations Research Set by Prasenjit Chatterjee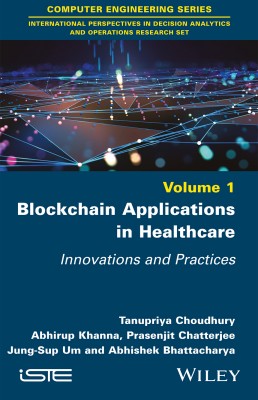 Tanupriya Choudhury, University of Petroleum and Energy Studies (UPES), Dehradun, Uttarakhand, India
Abhirup Khanna, University of Petroleum and Energy Studies (UPES), Dehradun, Uttarakhand, India
Prasenjit Chatterjee, MCKV Institute of Engineering, India
Jung-Sup Um, Kyungpook National University, South Korea
Abhishek Bhattacharya, Whrrl, India

---
Description
Blockchain is new-age technology used to track every transaction using cryptocurrency across servers linked in a peer-to-peer network, enabling transactions to be secure, transparent and reliable. Retaining an efficient, secure and patient-centric healthcare industry has never been so important, especially due to the damaging effects of the Covid-19 pandemic. The applicability of Blockchain in the healthcare domain can be seen as a remarkable opportunity for researchers and scientists to solve real-world problems.

This book focuses on the fundamentals of Blockchain technology along with the methods of its integration with the healthcare industry. It also provides an enhanced understanding of Blockchain technology, AI and IoT across the various application areas of the healthcare industry. Furthermore, throughout the book, areas of relevant applications, such as patient data privacy protection, pharmaceutical supply chains and genomics are discussed.

Contents
1. Framework for Blockchain in Healthcare.
2. Role of Smart Contracts in Blockchain.
3. Blockchain-based Platforms for the Healthcare Industry.
4. Analyzing and Modeling the Challenges Faced by the Healthcare Sector in the Adoption Process of Blockchain Technologies.
5. Blockchain as an Effective Technology in Maintaining Electronic Health Record Systems.
6. An Optimistic Approach to Share Private Health Records Using Blockchain Technology.
7. Patient Data Privacy Using Blockchain.
8. Decentralized Smart Healthcare Systems Using Blockchain and AI.
9. Component-based Healthcare Software Application Using Blockchain.
10. The Role of Smart Contracts and Blockchain Technology in Healthcare and Other Use Cases.
11. Healthcare Research Using Blockchain Technology: A Future Perspective.

About the authors
Tanupriya Choudhury is a Senior Associate Professor in the Informatics Cluster at the University of Petroleum and Energy Studies (UPES), Dehradun, Uttarakhand, India.

Abhirup Khanna is an Assistant Professor in Systemic Cluster at the University of Petroleum and Energy Studies (UPES), Dehradun, Uttarakhand, India.

Prasenjit Chatterjee is the Dean (Research and Consultancy) at MCKV Institute of Engineering, India.

Jung-Sup Um is Editor-in-Chief of Spatial Information Research. He is a Professor at Kyungpook National University, South Korea.

Abhishek Bhattacharya is a Co-founder at Whrrl and a Forbes 30 under 30. He is currently building India's first Agri-Fintech Blockchain platform, expecting to bring many benefits and solutions to a range of sectors.