Research in University Pedagogy
Towards a Discipline-based Approach?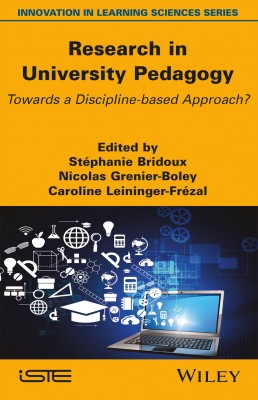 Description
This book offers an overview of the research carried out in didactics on the teaching and learning of science at university from the perspective of university pedagogy.

The first part sheds light on the links between university pedagogy and didactics, by studying the nature and place of disciplinary pedagogical knowledge at university and the training of academics through the prism of professionalization.

The second part questions the teaching practices of academics from a disciplinary approach, from the point of view of the impact of the research discipline on the declared practices, or that of the links between the resources mobilized in research and teaching activities.

The third part proposes a sociological look at these practices, in terms of the analysis of the discourses of institutional actors or of practices in situ. The book concludes with a synthesis that develops the main issues, challenges and difficulties that remain at the end of this book.

Contents
Part 1. The Links Between University Pedagogy and Didactics.
1. Why and How has Anglophone University Pedagogy Moved Closer to Francophone Subject Didactics? Denis Berthiaume.
2. Teacher Training at University through the Prism of Disciplines, Caroline Leininger-Frezal.
3. Transforming Higher Education and Professional Learning for Academics, Sacha Kiffer and Richard Wittorski.

Part 2. The Teaching Practices of University Teachers with a Disciplinary Approach.
4. Academic Territory and Professional Identity: Toward a Differentiation of Teaching Practices at University, Stéphanie Bridoux, Nicolas Grenier-Boley, Cécile De Hosson, Rita Khanfour-Armalé, Nathalie Lebrun, Caroline Leininger-Frézal, Zoé Mesnil, Céline Nihoul and Martine De Vleeschouwer.
5. The Relationship Between Research Activity and the Design of Resources for Teaching – The Case of Mathematics at the University Level, Hussein Sabra.

Part 3. A Sociological Perspective of the Practices of Lecturers and Researchers.
6. Beyond the Disciplinary Approach: Toward a Socio-historical and Critical Reflexivity of its Teaching Practices, Stéphanie Tralongo.
7. Transmitting Knowledge in the First Year of University: A Sociology of Work Perspective, Marie David.
8. Postface: Synthesis and Perspectives, Emmanuelle Annoot.

About the authors
Stéphanie Bridoux is a lecturer in mathematics at the Université de Mons, Belgium. She is a member of the Laboratoire de Didactique André Revuz (EA 4434) where she is co-leader (with Nicolas Grenier-Boley) of the working group "Teachers in higher education".

Nicolas Grenier-Boley is a professor in mathematics didactics and mathematics at the Université de Rouen Normandie, France. He is a member of the Laboratoire de Didactique André Revuz (EA 4434) where he is co-leader (with Stéphanie Bridoux) of the working group "Teachers in higher education".

Caroline Leininger-Frézal is a senior lecturer in geography didactics at the University of Paris, France, attached to the Laboratoire de Didactique André Revuz (LDAR).

Downloads

Table of Contents
PDF File 158 Kb