Smart Patches
Biosensors, Graphene and Intra-Body Communications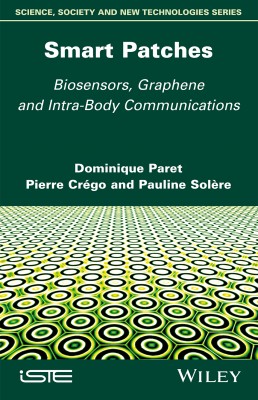 Description
This book defines and elucidates the topic of smart "second skin" clothing, which must be flexible, washable, ironable, long-lasting and battery-free. We explore the possibilities for its use in fields such as health, well-being, sports and leisure.

Smart Patches presents techniques that can be used within the limits established by regulations (EMC, normative, GDPR, ANSES, etc.) to help make smart clothing a marketable product at an affordable price.

This book studies the creation and performance of various sensors and biosensors based on graphene materials and describes the functioning of Intra-Body Communications (IBC), as well as all the internal and external parameters involved in this type of technology. The performances and limits of these IBC and technologies are presented, together with concrete application examples.

Contents
Part 1. Smart Apparel, Smart Patches and Biosensors.
1. Smart Apparel, Smart Patches and the Related Constraints.
2. Biosensors and Graphene Technology.

Part 2. Biocontroller.
3. Bioprocessors.
4. Power to the Patch.
5. OBC (Out-of-Body Communications) and IBC (Intra-Body Communications) in Smart Apparel.

About the authors
Dominique Paret is an ESIEE engineer with a DEA in physics. He was responsible for the technical support of an international leader of electronic components for many years. He is a professor in numerous engineering schools around the world and manages a company of experts and technical consultants.

Pierre Crégo is a microelectronics engineer and the CEO of Mercury Technologies. He has worked as a payment security expert for contactless cards and reader technologies. He is also an officially certified lead auditor for GDPR and personal data audits.

Pauline Solère is a microelectronics engineer from ESIEE and a specialist in e-health regarding the exploitation of sensors and the acquisition, use and security of data. Her research focuses on the fundamental and applicative aspects of graphene.

Downloads

Table of Contents
PDF File 162 Kb