Cloud and Edge Networking
SCIENCES - Cloud Networking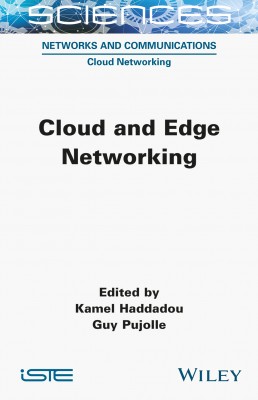 Description
A major transformation in the world of networks is underway, as the focus shifts from physical technology to software-based solutions.

In this book, the authors present this new generation of networks that are based in the Cloud by detailing the transition from a complex environment to a simple digital infrastructure. This infrastructure brings together connected devices, the antennas that collect radio waves, the optical fibers that carry signals and the data center that handles all of the different processes.

From this perspective, the data center becomes the brain, managing network services, controls, automation, intelligence, security and other applications. This architecture is relevant to carrier networks, the Internet of Things, enterprise networks and the global networks of the major Internet companies.

Cloud and Edge Networking further discusses developments at the border of networks, the Edge, where data is processed as near as possible to the source. Over the next ten years, the Edge will become a major strategic factor.

Contents
1. Introduction to Edge and Cloud Networking.
2. The Cloud Continuum.
3. Digital Infrastructure Architecture.
4. Open-Source Architectures for Edge and Cloud Networking.
5. Software-Defined Networking (SDN).
6. Edge and Cloud Networking Commercial Products.
7. OpenFlow, P4, Opflex and I2RS.
8. Edge and Cloud Networking Operators.
9. Cloud Networking Protocols.
10. Edge and Cloud Networking in the IoT.
11. Cloud Continuum in Vehicular Networks.
12. The Cloud Continuum and Industry 4.0.
13. AI for Cloud and Edge Networking.
14. Cloud and Edge Networking Security.
15. Accelerators.
16. The Future of Edge and Cloud Networking.
About the authors
Kamel Haddadou is a research director in the GANDI group, France. He leads several French and European projects in the networks domain. His research interests focus on the design, implementation and deployment of new data center network protocols and systems.

Guy Pujolle is Emeritus Professor at Sorbonne University, France, and President of Green Communications. He is one of the pioneers of very high speed networks and has been involved in several important inventions and patents, including virtual networks. He has received various awards for his work and publications.


Downloads

Table of Contents
PDF File 113 Kb