Territorial Inequalities
SCIENCES - Geography of Inequality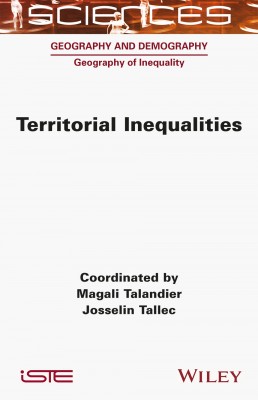 Description
Spatial planning has embraced the idea of dealing with territorial inequalities by focusing on equipment logic on a national scale, and then economic development on a local scale.

Today, this issue is creating new angles of debate with strong political resonances (e.g. Brexit, French gilets jaunes movement). Interpretations of these movements are often quick and binary, such as: the contrast between metropolises and peripheries, between cities and the countryside, between the north and the south or between the east and the west of the European Union.

Territorial Inequalities sheds light on the social, political and operational implications of these divergences. The chapters cover the subject at different scales of action and observation (from the neighbourhood to the world), but also according to their interdependences. To deal with such a vast and ambitious theme, the preferred approach is that of territorial development in terms of public policy, namely spatial planning.

Contents
1. Metropolization and Territorial Inequalities, Magali Talandier.
2. Inequalities in Territorial Development: Enigmas and Threats, Laurent Davezies.
3. Which Geographical Figures Should Be Mobilized Against Particular Territorial Inequalities? Xavier Desjardins and Philippe Estèbe.
4. The Periurban Question, Éric Charmes.
5. The European Union: Territorial Inequalities and Development Policy, Frédéric Santamaria.
6. Medium-sized Cities and Territorial Inequalities, Josselin Tallec.
7. Urban Segregation, Sylvie Fol and Leïla Frouillou.



About the authors
Magali Talandier is a professor at Université Grenoble Alpes, France, and a member of the Institut Universitaire de France. Her work focuses on the analysis of territorial development processes.

Josselin Tallec is a senior lecturer at the Université Grenoble Alpes, France. His work focuses on the socio-economic recomposition of cities and territories, and on the territorialization of public action and territorial projects.

Downloads

Table of Contents
PDF File 169 Kb