Globalization and Dynamics of Urban Production
SCIENCES - Socio-Economic Geography of the Fabric of Cities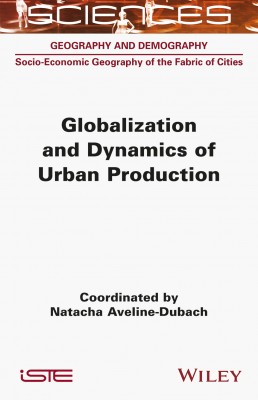 Description
Over the last 20 years, urbanization processes have undergone profound transformations under the growing influence of private actors, particularly in the financial sector. This has exposed the physical environment of various cities to global capital flows, which has generated an overall rise in real estate values on a global scale. This is often disconnected from the financial capacities of local actors – primarily households – which then increases the inequalities and vulnerabilities of societies regarding financial and environmental risks.

This book offers the keys to understanding these new dynamics of capital accumulation in the general built-up environment of cities by taking into account the diversity of their configurations, their intensity and their urban effects according to national contexts. Beyond the cases involving the major Western countries, the initial centers of the financial industry and the theorizations on the urban, this book addresses the particular contexts of real estate production in four major regions: Northeast Asia, Southeast Asia, the Middle East and West Africa.

Contents
Part 1. Sectoral Reconfigurations of Property Markets and Urban (Re)Development.
1. The Financialized City and the Extraction of Urban Rent, Thierry Theurillat.
2. Real Estate Developers: Coordinating Actors in the Production of the City, Julie Pollard.
3. Housing, Ownership, Assets and Debt: Geographical Approaches, Renaud Le Goix.
4. Logistics Urbanization, Between Real Estate Financialization and the Rise of Logistics Urban Planning, Nicolas Raimbault and Adeline Heitz.
5. The City–Port Relationship in the Metropolitan Fabric, Jean Debrie.

Part 2. Regional Dynamics of Capital Accumulation in East Asian, Middle Eastern and West African Real Estate Markets.
6. Land Value Capture and Its Large-Scale Application in Northeast Asia, Natacha Aveline-Dubach.
7. The Dual Regionalization of Real Estate Financialization in Southeast Asia, Gabriel Fauveaud.
8. Real Estate in the Middle East: An Economy Shaped by Rents, Myriam Ababsa.
9. Building Cities in West Africa: Construction Boom and Capitalism, Armelle Choplin.







About the authors
Natacha Aveline-Dubach is a research director at the CNRS in France, specializing in the political economy of urban production. She has also directed numerous projects in East Asia on the financialization of real estate, rail-city relations, city-health relations and aging.
Downloads

Table of Contents
PDF File 169 Kb