Urban Mobility Systems in the World
SCIENCES - Infrastructure and Mobility Networks Geography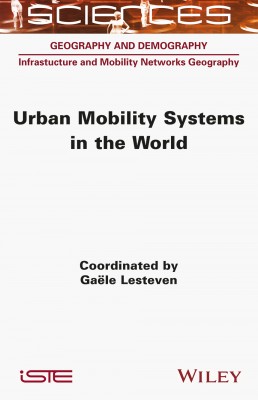 Description
Urban Mobility Systems in the World provides insight into the geographical organization of urban mobility systems around the world. These "systems" consist of infrastructure networks, existing transport services and people's travel practices. Adopting a comparative approach, the book highlights the geographical diversity of mobility systems, based on case studies from Africa, North and South America, Asia and Europe.

This multi-disciplinary book is organized into twelve chapters, divided into four parts. The first part gives an overview of urban mobility, and then examines the factors that determine everyday mobility in cities, revealing different travel practices among populations (poor, elderly and children). Parts 2 and 3, respectively, focus on urban public transport (trains, metros, minibuses) and active modes of transport (walking, cycling), and the related infrastructure policies. The final section examines the circulation of urban mobility analysis tools and public policy models.

Contents
Part 1. Urban Mobility and Socio-Economic Characteristics.
1. Getting Around the City: Overview of Urban Mobility Around the World, Gaële Lesteven.
2. Unevenly Distributed Mobility, Spotlight on Brazil, Benjamin Motte-Baumvol.
3. Going Out Without Getting By? Mobility and Poverty in Dakar, Lourdes Diaz Olvera, Didier Plat, and Pascal Pochet.
4. Children's Mobility: Comparative Perspectives Between France and Quebec, Sylvanie Godillon.

Part 2. Urban Public Transport.
5. Mobility, Public Transportation and Super-Aging in Japan, Sophie Buhnik.
6. From Calcutta to Delhi and Hyderabad: Genealogy of Indian Metros, Bérénice Bon.
7. Non-Centralized Urban Transport: An Illustration Based on the Case of Jakarta, Rémi Desmoulière.

Part 3. Active Modes of Transport and Infrastructure Policies.
8. The Infrastructure of Walking: The Case of Mexico City Sidewalks, Ruth Pérez López, Jérôme Monnet, and Guénola Capron.
9. Cycling Policies in Europe: The Case of Greater Lyon and Hamburg, Manon Eskenazi.

Part 4. Circulation of Urban Mobility Analysis Tools and Public Policy Models.
10. Categorical Pitfalls for Analyzing Urban Mobility, Hadrien Commenges and Florent Le Néchet.
11. Geographical Inequalities in the Analysis of Urban Mobility, Florent Le Néchet.
12. Circulation of Models in Africa: The Example of Bus Rapid Transit in Cape Town, Solène Baffi.










About the authors
Gaële Lesteven is a geographer and researcher in Urban Planning and Development at the Laboratoire Aménagement Economie Transports at ENTPE – Université de Lyon, France. Her research focuses on the analysis of people's everyday mobility in cities, with an international perspective.
Downloads

Table of Contents
PDF File 183 Kb