Microwave Photonic Links
Components and Circuits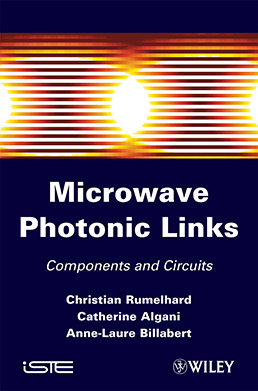 Description
This book presents electrical system models for the different elements of a photonic microwave link such as lasers, external modulators, optical fibers, photodiodes and phototransistors.

The current and likely future trends for development of these components are also included: from lasers to VCSEL, external modulators to electro-absorption modulators, glass optical fibers to plastic optical fibers, photodiodes to UTC photodiodes or phototransistors.

It also describes an original methodology for the evaluation of the performances of a microwave photonic link, based on the previously developed electrical models. This can be easily incorporated into commercially available circuit simulation software, enabling the reader to simulate the complete photonic link.
Contents
1. General Points.
2. Generation and Modulation of Light.
3. Optical Fibers and Amplifiers.
4. Photodetectors.
5. Performance of Microwave Photonic Links.
6. Complement to Microwave Photonic Link Performances.
7. Electronic Amplifiers in Microwave Photonic Links.
8. Simulation and Measurement of Microwave Photonic Links.
About the authors
Christian Rumelhard was Professor at the Conservatoire National des Arts et Métiers, Paris and Director of ESYCOM (Equipe Systèmes de Communication et Microsystèmes), a joint research team between CNAM (Conservatoire National des Arts et Métiers), ESIEE and University of Marne-la-Vallée, and is now Professor Emeritus at CNAM.

Catherine Algani is a Full Professor in ESYCOM at CNAM-Paris. Her current research interests are the development of devices, circuits, and sub-systems for ultrahigh speed digital and analog communications for ROF and wireless applications. This research includes the modeling, design and characterization of such structures.

Anne-Laure Billabert is a lecturer at CNAM and ESYCOM in Paris, France. Her current research is centered on the topics of optomicrowave technology, mainly the simulation of an opto-microwave link. She has been in charge of the French academic and industrial Optical Microwave club of Société française d'Optique since 2008.