Introduction to Sustainable Transports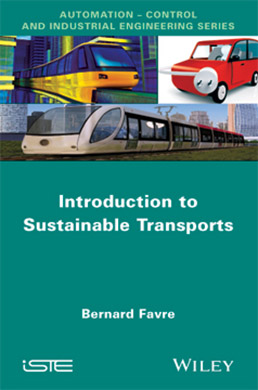 Description
In Introduction to Sustainable Transports, Bernard Favre presents the fundamental issues concerning the future of clean transport systems. Discussing technological innovations, transport infrastructure, and human and social factors, this book encourages the reader to view transport systems in terms of their overall structure, emphasizing the potential conflict between individual and collective objectives, and short- and long-term ones.
Transport systems have to meet the mobility needs of people and commodities on all scales, from the local to the global level. Concerns about energy, the fumes and sound emissions produced, and about the safety, service quality, intelligence and lifecycle of the systems, can all be included in a systemic approach. This approach can contribute to the development of sustainable solutions, for individual vehicles as well as for transport systems.
Derived from an approach combining the social and physical sciences, these solutions result from the integration of physical objects, services and organizational processes, which involve several actors. Their harmonious organization contributes to the development of more virtuous transport systems for the future of urban and inter-urban mobility.
This book presents the elements in context and puts forward tools. However, it also warns against reading the subject of sustainable transport in too linear a fashion. Interactions of cause and effect, the interlocking of the domains and disciplines concerned, the consideration of distance and time scales, the diversity of geographical and cultural territories – everything demonstrates the complexity of the possible answer – or answers.

Contents
1. The Fundamentals of Sustainable Transport.
2. Vehicles: An Element of the Solution for Sustainable Transport.
3. A Systemic Approach to Transport Schemes.
4. Can We Organize Sustainable Mobility?
5. Innovation Projects for Sustainable Transport Systems.
6. Public Policies, Economics and Sustainable Transport.
Appendix. LUTB Transport and Mobility Systems.

About the authors
Bernard Favre is a professional engineer who has dedicated the last 40 years to innovation with regards to vehicles, transport and mobility systems, through academic research (IFSTTAR, University of Lyon), industrial development (Renault, Renault Trucks, Groupe Volvo), and operational implementation (LUTB Transport & Mobility Systems).
Downloads

Tables of Contents
PDF File 160 Kb