Driving Simulation
FOCUS Series in Automation and Control - Industrial Engineering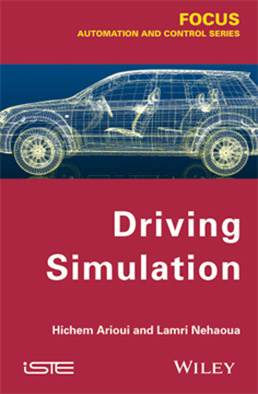 Description
Passive and active safety systems (ABS, ESP, safety belts, airbags, etc.) represent a major advance in terms of safety in motoring. They are being increasingly developed and installed in cars and are also beginning to appear in two-wheelers. It is clear that these systems have proven to be efficient, although there is no information about their actual operation by current users.
The authors of this book present a state of the art on safety systems and assistance for driving both motor vehicles and their two-wheeled counterparts. The main components constituting a driving simulator are described, followed by a classification of robotic architectures. Then, a literature review on motor vehicle, and two-wheeled vehicle, driving simulators is presented. The aim of the book is to highlight the different perspectives between motor vehicles and motorcycles in order to identify relevant indicators that will help in the choosing of the mechanical architecture of the motorcycle simulator and its appropriate controls.
Contents
1. Driving Simulation.
2. Architecture of Driving Simulators.
3. Dynamics of Two-Wheeled Vehicles.
4. Two-Wheeled Riding Simulator: From Design to Control.

About the authors
Hichem Arioui is Associate Professor at the University of Évry-Val-d'Essonne, France.
Lamri Nehaoua is a Lecturer at the University of Évry-Val-d'Essonne, France.
Downloads

Tables of Contents
PDF File 28 Kb