Satellite and Terrestrial Hybrid Networks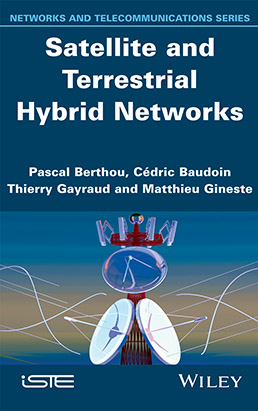 Description
This book offers the reader the keys for a successful understanding, integration and usage of satellite systems in addition to next generation terrestrial networks. The DVB-S2/RCS system is used to illustrate the integration challenges. The presentation uses a system approach, i.e. it tackles the terrestrial and satellite telecommunication systems' complexity with a high level approach, focusing on the systems' components and on their interactions. Several scenarios present the different paths that can be followed for the integration of satellite systems in terrestrial networks. Quality of Service management techniques in terrestrial and satellite systems and the solutions to help them interoperate are provided. Inter-system mobility solutions and performance problems are then addressed.

The solutions proposed in this book have been developed within the framework of European and French funded research projects and tested with simulated or real testbeds.

Contents
1. Satellite and Terrestrial Hybrid Networks.
2. Quality of Service on Next-Generation Terrestrial Networks.
3. Quality of Service in DVB-S/RCS Satellite Networks.
4. Integration of Satellites into IMS QoS Architecture.
5. Inter-system Mobility.
6. The Transport Layer In Hybrid Networks.

About the authors
Pascal Berthou is Assistant Professor at the University of Toulouse, France. He conducts research on satellite communication systems and wireless networks at the Laboratory for Analysis and Architecture of Systems of the French National Center for Scientific Research (LAAS-CNRS).

Cédric Baudoin coordinates activities on network access at the R&D department for the satellite and platform business segment at Thales Alenia Space group.

Thierry Gayraud is Full Professor at the University of Toulouse, France. His research activities at LAAS-CNRS are related to Quality of Service in wireless network architectures, from sensor networks to satellite communication networks.

Matthieu Gineste works at the Telecom R&D department of Thales Alenia Space on projects concerning satellite systems and communication design, end-to-end QoS management and cross-layer design.

Downloads

Table of Contents
PDF File 165 Kb