Insight on Environmental Genomics
The High-throughput Sequencing Revolution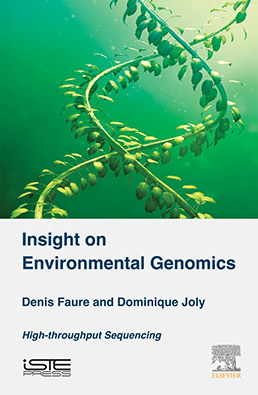 Description
Bringing together the latest methodological and scientific progress in the various research areas in the field of Environmental Genomics, this book discusses the characterization of the structure and dynamics of life, the study of the evolution and adaptation of genes and genomes, the analysis of degraded and/or old DNA, and the functional and genomic ecology of populations and communities. It also considers access to the production and sharing of NGS data and the quality of this data.

As the product of the collective discussion of the active French scientific community, the book presents not only the latest technologies in the development of new sequencing methods, but also the resulting issues, challenges and prospects, in order to identify those aspects with the greatest potential for modeling and exploring the function of ecosystems.

Contents
1. Issues, Challenges, Scientific Bottlenecks and Perspectives.
2. Technological Revolutions: Possibilities and Limitations.
3. NGS Data Sharing and Access.
4. Accuracy of NGS Data: From Sequence to Databases.
5. Taxonomy and Biodiversity.
6. Characterizing Biodiversity.
7. Evolution and Adaptation of Genes and Genomes.
8. Degraded and Paleogenomic DNA.
9. Functional Ecology and Population Genomics.
10. Structure and Functioning of Microbial Ecosystems: Metagenomics and Integration of Omics.
11. Modeling and Predicting Behaviors and Dynamics of Ecosystems.

About the authors
Denis Faure is CNRS research director at the Institute of Integrative Biology of the Cell, Gif-sur-Yvette, France, and has been co-chair of the French network on Environmental Genomics since 2011. For the past 20 years, he has worked on a combination of ecology and genomics approaches to plant-host microbe and microbe-microbe interactions. His research is currently focused on bacterial communication in plant-bacteria interactions, and bacterial genome structure and dynamics in plant pathogens.

Dominique Joly is CNRS research director at Evolution, Génomes, Comportement et Ecologie (EGCE) in Gif-sur-Yvette, France, and has co-chaired the French network on Environmental Genomics since 2011, as well as the French network on Epigenetics in Ecology and Evolution since 2013. Her past research interests have revolved around the evolutionary dynamics of male/female interactions at the behavioral, physiological and molecular levels, and currently include the genomics of population differentiation and the role of social networks

Downloads

Table of Contents
PDF File 529 Kb