Energy and Motorization in the Automotive and Aeronautics Industries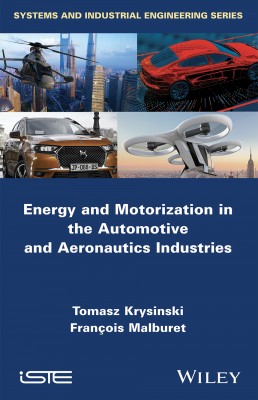 Description
Transportation technologies affect the depletion of non-renewable resources and the environment. Beyond organizational and behavioral solutions, improvement of existing technologies or development of new technologies is now a major challenge. After decades of using fossil fuels, energy transition is now a necessity.

Energy and Motorization in the Automotive and Aeronautics Industries provides a detailed comparison of the challenges – in energy and technology – within the automotive and aeronautical transport sector, with particular emphasis on the issue of energy storage. The book presents several solutions – developed or envisaged – to the energy problem, such as the improvement of turbine and piston heat engines, hybridization by combinations of different energy sources stored in the form of batteries, supercapacitors, flywheel or compressed gases, and the exclusive use of electric motors with batteries or hydrogen fuel cells.
Contents
1. Motorization and Reflection on Ideal Engines.
2. Engine Technologies.
3. Power Transmission Elements.
4. Energy Storage.
5. Hybridization.
About the authors
Tomasz Krysinski is Head of Research and Innovation at Airbus Helicopters, having previously managed the innovation laboratory at PSA Peugeot Citroën.

François Malburet is a teacher-researcher at ENSAM in Aix-en-Provence, France, and a member of LISPEN.
Downloads

Table of Contents
PDF File 78 Kb