Virology
SCIENCES – Biology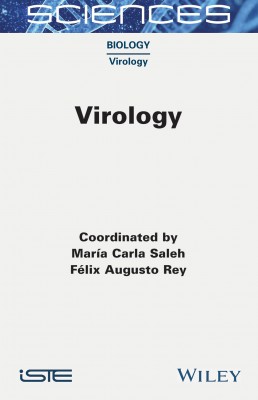 Description
Viruses interact with all forms of life and have shaped evolution for 4 billion years. The COVID-19 pandemic highlights the importance of conducting scientific research into viruses to understand the interactions between them and their hosts.

Virology is made up of eight chapters, all of which have been written by outstanding female virologists, emphasizing women's fundamental role in all aspects of science. It summarizes our current knowledge about the biology of viruses in general and analyzes the specific features of several ones of medical, veterinary and agricultural importance. Genome replication strategies of different virus families are covered, as well as strategies for survival within their hosts by counteraction of the cellular innate antiviral responses. Attention is also given to viral strategies for efficient dissemination in nature, as well as the evolution of a select group of viruses.
Contents
1. DNA Viruses, Lindsey M. Costantini and Blossom Damania.
2. Double-stranded RNA Viruses, Michelle M. Arnold, Albie Van Dijk and Susana López.
3. Negative-strand RNA Viruses, Rachel Fearns.
4. Viral Epitranscriptomics, Rachel Netzband and Cara T. Pager.
5. Defective Viral Particles, Carolina B. López.
6. Enteric Viruses and the Intestinal Microbiota, Matthew Phillips, Bria F. Dunlap, Megan T. Baldridge and
Stephanie M. Karst.
7. Plant–Virus–VectorInteractions, Swapna Priya Rajarapu, Diane E. Ullman, Marilyne Uzest,
Dorith Rotenberg, Norma A. Ordaz and Anna E. Whitfield.
8. Evolution and Origin of Human Viruses, Rachele Cagliani, Alessandra Mozzi, Chiara Pontremoli,
Manuela Sironi.
About the authors
María Carla Saleh is Full Professor at Institut Pasteur, where she directs the Viruses and RNAi unit within the department of Virology. She studies the antiviral response in insects and develops new vector control strategies to eliminate mosquito-borne diseases. During her post-doctoral training at the University of California, San Francisco, USA, she discovered that RNA interference was the antiviral immune system of insects.

Félix Augusto Rey directs the Structural Virology unit of Institut Pasteur, France, where he studies the entry mechanisms of lipid-enveloped viruses into cells by using structural approaches. Previously, he has been junior group leader at the CNRS and was chair of Institut Pasteur's Virology department between 2004 and 2012. During his post-doctoral training at Harvard University, USA, he determined the first structure of a flavivirus envelope protein.

Downloads

Table of Contents
PDF File 119 Kb