Care in Technology
Volume 7 - Innovation and Responsibility SET Coordinateb by Bernard Reber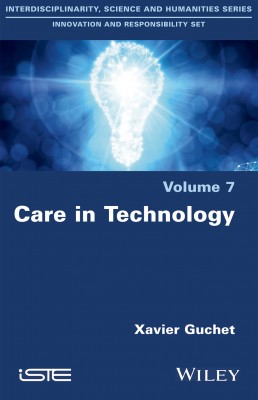 Description
Today, it is widely recognized that in order to meet environmental challenges, it will not simply be enough to make our lifestyles "greener"; also critical is putting an end to the modern conception of the human as "master and possessor" of nature. However, to bear fruit, this change in anthropology must also be accompanied by a revision in our conception of technology.

Since the Enlightenment and the development of industrialization, technology no longer seems to be subject to the guiding principles set by the Greeks: prudence and the search for the right measure in all, which leads to the care of beings and the world. Care in Technology analyzes the historical changes that have led technology to become an unthinkable part of care, and care an unthinkable part of technology. It also establishes the conditions for care to once again become a regulatory principle of the activity of engineers who design technology.
Contents
1. Care and Technology: An Anthropological.
2. Technology and Life: Analysis of a Divorce.
3. The Conditions of Care in Technology.
4. Design, Technology and Life.
About the authors
Xavier Guchet is Professor of Philosophy at the University of Technology of Compiègne, France. His research focuses on the epistemological and ethical challenges of new technologies. He is also an expert on the thinking of Gilbert Simondon and the author of several books.

Downloads

Table of Contents
PDF File 143 Kb