NG-RAN and 5G-NR
5G Radio Access Network and Radio Interface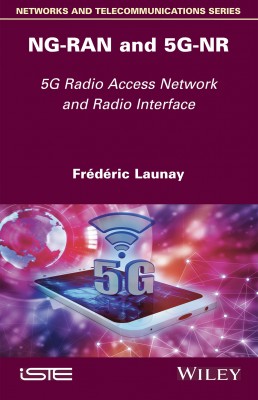 Description
NG-RAN and 5G-NR describes the deployment of 5G NSA (non standalone 5G) and 5G-SA (standalone 5G).

5G-NSA deals with radio access entities. For the 5G-NSA mode, dual MR DC connectivity is based on radio measurements, allowing the master 4G base station MeNB to add or remove a secondary 5G node SgNB.

This book describes the architecture of the NG radio access network and the 5G-NR radio interface according to the 3GPP (3rd Generation Partnership Project) specifications.

The overall architecture of the NG-RAN, including the NG, Xn and F1 interfaces and their interaction with the radio interface, are also described. The 5G-NR physical layer is mainly connected by implementing antennas, which improves transmission capacity.
5G-SA deals with the 5G Core network. In the 5G-SA model, the mobile is attached to the 5G Core network through NG-RAN.
The book explains radio procedure, from switching on a device to establishing a data connection, and how this connection is maintained even if mobility is involved for both 5G-SA and 5G-NSA deployment.

NG-RAN and 5G-NR is devoted to the radio access network, but mobile registration, establishment procedures and re-establishment procedures are also explained.
Contents
1. NG-RAN Network – Functional Architecture.
2. NG-RAN Network – Protocol Architecture.
3. NG-RAN Network – Procedures.
4. 5G-NR Radio Interface – The Physical Layer.
5. 5G-NR Radio Interface – Operations on the Frequency Bands.
6. 5G-NR Radio Interface – MIMO and Beamforming.
7. 5G-NR Radio Interface – Bandwidth Part.
8. 5G-NR Radio Interface – Data Link Layer.
9. 5G-NR Radio Interface – Radio Access Procedure.
About the authors
Frédéric Launay is an Associate Professor at the LIAS laboratory and a teacher in networks and telecommunications at the University of Poitiers, France. He also leads training on the 4G, 5G, SIP and IMS networks.
Downloads

Table of Contents
PDF File 94 Kb