Hyperdocumentation
Volume 9 - Intellectual Technologies SET Coordinated by Jean-Max Noyer, Maryse Carmes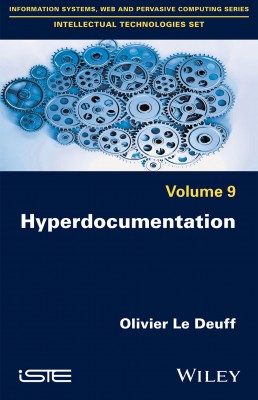 Description
The term "hyperdocumentation" is a hyperbole that seems to characterize a paradox. The leading discussions on this topic bring in diverse ideas such as that of data, the fantasy of Big Data, cloud computing, artificial intelligence, algorithmic processing, the flow of information and the outstanding successes of disinformation.

The purpose of this book is to show that the current context of documentation is just another step in human construction that has been ongoing for not centuries but millennia and which, since the end of the 19th century, has been accelerating. Coined by Paul Otlet in 1934 in his Traité de Documentation, "hyperdocumentation" refers to the concept of documentation that is constantly being expanded and extended in its functionalities and prerogatives.

While, according to Otlet, everything could potentially be documented in this way, increasingly we find that it is our lives that are being hyperdocumented. Hyperdocumentation manifests as an increase not only in the quantity of information that is processed but also in its scope, as information is progressively integrated across areas that were previously poorly documented or even undocumented.
Contents
1. Hyperdocumentation According to Paul Otlet.
2. Hyperdocumentation as a Triumph of Documentality.
3. Hyperhuman or Hypermachine?.
4. Towards Hyperdocumentary Regimes.
5. Between Knowledge Indexing and Existence Indexing.
6. Personal Documentation: Between "The Self" and "Myself".
7. The Hyperdocumentalists of Our Lives.
8. Documentation of All the Senses.
9. Free (or Open?) Hyperdocumentation.
10. Conclusion: Is it Necessary to Go to San Junipero?
About the authors
Olivier Le Deuff is a lecturer in Information Science and Communication Studies at Bordeaux Montaigne University, France. He is the author of several books, essays and short stories, including Digital Humanities: History and Development, also published by ISTE-Wiley.
Downloads

Table of Contents
PDF File 150 Kb