Eco-design of Marine Infrastructures
Towards Ecologically-informed Coastal and Ocean Development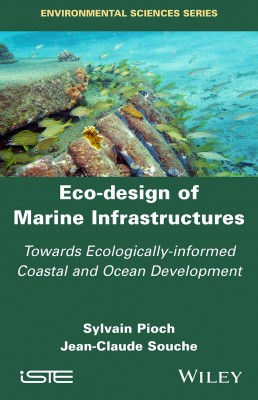 Description
This book offers an insight into how to create aesthetically pleasing, environmentally integrated, multi-functional developments in the ocean or on the coastline.
Eco-design of Marine Infrastructures provides practical and realistic solutions for delivering projects that strive to minimize negative environmental impacts. Using case studies and examples, this book presents a toolkit of options, allowing decision makers and planners to see what is possible and to make informed choices about the risks and benefits of eco-design.

It is intended for researchers, engineers, students and decision makers, or anyone who is curious to see how nature can be integrated into development.
Contents
1. Principles and Genesis of Maritime Eco-design.
2. Maritime Civil Engineering.
3. Eco-design of Marine Infrastructures.
4. Evidence Through Experience: Examples of Eco-designed Marine Projects.
About the authors
Sylvain Pioch holds a PhD in Geography and Planning, is an Ecological Engineer (AFIE) and a Senior Lecturer at Paul Valéry University, Montpellier 3, France. He works on the assessment of the impacts of coastal developments, eco-design and ecological maritime restoration.

Jean-Claude Souche holds a PhD and is a civil engineer. As well as being a teacher-researcher, he is also Head of the Civil Engineering and Sustainable Building department at IMT Mines Alès, France. He is a specialist in port and coastal civil engineering, and in the eco-design of maritime works and their interactions with their environment.

Downloads

Table of Contents
PDF File 104 Kb