Management of Radioactive Waste
Volume 5 - Radioactive Risk SET Coordinated by Jean-Claude Amiard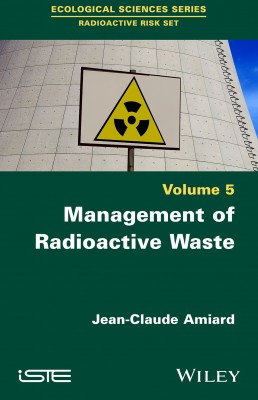 Description
The classification of radioactive waste varies from state to state. This results in different management procedures for each country, while following IAEA and OECD/NEA recommendations.

Radioactive waste comes from numerous sources. The largest volumes are generated by the decommissioning and dismantling of nuclear facilities. Long-lived, medium- and high-activity waste – categorized as the most hazardous types of waste – are in fact largely produced by nuclear power reactors, spent fuel reprocessing plants and nuclear accidents.

Final disposal of very low-activity, low-activity and very short-lived waste is well controlled. However, final solutions for certain categories, including long-lived waste, sorted waste and spent graphite waste, are not yet in place.

Management of Radioactive Waste reviews all the possible solutions and presents those chosen by the various states, including a chapter detailing policy on radioactive waste management, taking France as an example.
Contents
1. Classifications and Origins of Radioactive Waste.
2. Nuclear Waste Disposal Methods.
3. Management of Historic Radioactive Waste and Low-level Waste Around the World.
4. Management of Intermediate- and High-level Nuclear Waste.
5. Nuclear Waste Management in France.
6. General Conclusions.
About the authors
Jean-Claude Amiard is a Doctor of Radioecology, Emeritus Research Director at the CNRS (University of Nantes, France) and former Associate Professor in Quebec and China. He is the author of more than 250 publications, 80 books or book chapters and 150 presentations at international conferences.

Downloads

Table of Contents
PDF File 103 Kb