Perceptions and Analysis of Digital Risks
Volume 1 - Mediating Knowledge SET Coordinated by Vincent Liquète and Anne Lehmans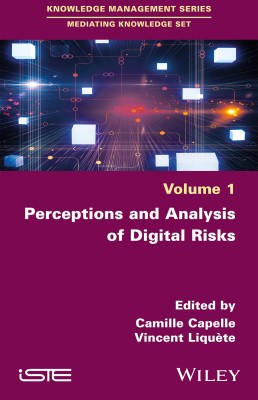 Description
The concept of digital risk, which has become ubiquitous in the media, sustains a number of myths and beliefs about the digital world. This book explores the opposite view of these ideologies by focusing on digital risks as perceived by actors in their respective contexts.

Perceptions and Analysis of Digital Risks identifies the different types of risks that concern actors and actually impact their daily lives, within education or various socio-professional environments. It provides an analysis of the strategies used by the latter to deal with these risks as they conduct their activities; thus making it possible to characterize the digital cultures and, more broadly, the informational cultures at work.

This book offers many avenues for action in terms of educating the younger generations, training teachers and leaders, and mediating risks.
Contents
Part 1. Risk Perceptions, Education and Learning
1. Digital Risks: An Obstacle or a Lever for Education?, Camille Capelle.
2. Teenagers Faced with "Fake News": Perceptions and the Evaluation of an Epistemic Risk, Gilles Sahut and Sylvie Francisco.
3. "A Big Nebula that is a Bit Scary" (Louise, Trainee Schoolteacher): Training through/in Digital Technology, in School and in Professional Training, Anne Cordier.

Part 2. Risks in the Light of Socio-Economic Issues
4. Top Managers Confronted with Information Risks: An Exploratory Study within the Telecommunications Sector, Dijana Lekic, Anna Lezon-Rivière and Madjid Ihadjadene.
5. Cell Phones and Scamming Risks in Cameroon: Users' Experiences and Socio-Institutional Responses, Freddy Tsopfack Fofack and Abdel Bernazi Rengou.

Part 3. Digital Risks: Practices and Mediation
6. Towards a Normative Prescription of Information Practices on Digital Social Networks: A Study of Documentary Pedagogical Projects in Middle School, Adeline Entraygues.
7. MIL as a Tool for Teachers to Prevent Risk and Transmit Digital Culture, Julie Pascau.
About the authors
Camille Capelle is a lecturer in Information and Communication Sciences at the University of Bordeaux, France. She has coordinated research on perceptions held by teachers and young adolescents on digital risks and their impact on education.

Vincent Liquète is a professor in Information and Communication Sciences at the University of Bordeaux, France. He has worked on information cultures and info-communication practices in various fields, including education.
Downloads

Table of Contents
PDF File 111 Kb