Conflicts, Crimes and Regulations in Cyberspace
Volume 2 - Cybersecurity SET Coordinated by Daniel Ventre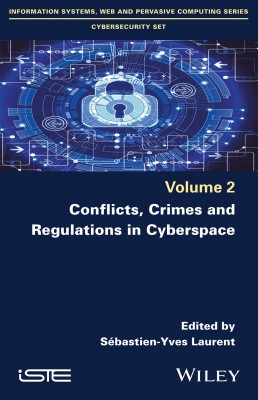 Description
The study of cyberspace is relatively new within the field of social sciences, yet interest in the subject is significant. Conflicts, Crimes and Regulations in Cyberspace contributes to the scientific debate being brought to the fore by addressing international and methodological issues, through the use of case studies.

This book presents cyberspace as a socio-technical system on an international level. It focuses on state and non-state actors, as well as the study of strategic concepts and norms. Unlike global studies, the socio-technical approach and "meso" scale facilitate the analysis of cyberspace in international relations. This is an area of both collaboration and conflict for which specific modes of regulation have appeared.
Contents
1. The United States, States and the False Claims of the End of the Global Internet, Sébastien-Yves Laurent.
2. Cybersecurity in America: The US National Security Apparatus and Cyber Conflict Management, Frédérick Gagnon and Alexis Rapin.
3. Separation of Offensive and Defensive Functions: The Originality of the French Cyberdefense Model Called into Question?, Alix Desforges.
4. The Boundary Between Cybercrime and Cyberwar: An Uncertain No-Man's Land, Marc Watin-Augouard.
5. Cyberdefense, the Digital Dimension of National Security, Bertrand Warusfel.
6. Omnipresence Without Omnipotence: The US Campaign Against Huawei in the 5G Era, Mark Corcoral.
7. The Issue of Personal and Sovereign Data in the Light of an Emerging "International Law of Intelligence", Fabien Lafouasse.
8. International Cybersecurity Cooperation, Guillaume Poupard.
9. Cyberdefense and Cybersecurity Regulations in the United States: From the Failure of the "Comprehensive Policy" to the Success of the Sectoral Approach, Adrien Manniez.
About the authors
Sébastien-Yves Laurent is a professor working in the Faculty of Law and Political Science at the University of Bordeaux, France. His research is in international relations and security studies, with a particular focus on cyber and digital issues.
Downloads

Table of Contents
PDF File 158 Kb