Model-based Systems Architecting
Using CESAM to Architect Complex Systems
Volume 3 - Systems of Systems Complexity SET Coordinated by Jean-Pierre Briffaut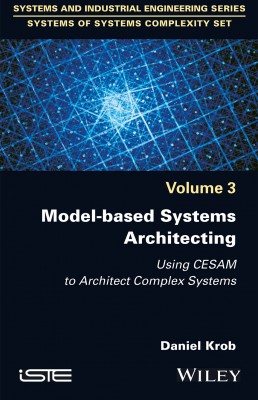 Description
Model-based Systems Architecting is a key tool for designing complex industrial systems. It is dedicated to the working systems architects, engineers and modelers, in order to help them master the complex integrated systems that they are dealing with in their day-to-day professional lives.

It presents the CESAMES Systems Architecting Method (CESAM), a systems architecting and modeling framework which has been developed since 2003 in close interaction with many leading industrial companies, providing rigorous and unambiguous semantics for all classical systems architecture concepts.

This approach is practically robust and easy-to-use: during the last decade, it was deployed in more than 2,000 real system development projects within the industry, and distributed to around 10,000 engineers around the globe.
Contents
1. Introduction to CESAM.
2. Why Architecting Systems.
3. CESAM Framework.
4. Identifying Stakeholders: Environment Architecture.
5. Understanding Interactions with Stakeholders: Operational Architecture.
6. Defining What the System Shall Do: Functional Architecture.
7. Deciding How the System Shall be Formed: Constructional Architecture.
8. Taking into Account Failures: Dysfunctional Analysis.
9. Choosing the Best Architecture: Trade-off Techniques.
About the authors
Daniel Krob is one of the leading world experts in systems architecting and engineering. He was Institute Professor at Ecole Polytechnique, Palaiseau, France, and founder and Director of its Industrial Chair dedicated to complex systems engineering for more than 15 years. He is currently President of the Center of Excellence on Systems Architecture, Management, Economy & Strategy (CESAMES) and has been an INCOSE Fellow since 2014.
Downloads

Table of Contents
PDF File 88 Kb